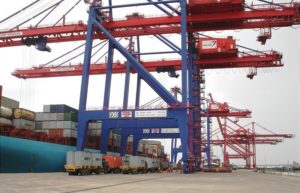 Adani Group is closely chasing a bid on terminal concessions owned by APM Terminals at the ports of Jawaharlal Nehru Port Trust (JNPT) and Gujarat Pipavav on the West Coast of India, informs JOC.
"Adani Ports is the only bidder for APMT India, and it is very positive about the deal," writes JOC quoting an anonymous key Adani executive.
The talks about APMT's intention to exit the Indian container terminal market started leaking earlier this year, always mentioning Adani Group and its port operating company Adani Ports and Special Economic Zone Ltd (APSEZ). Although APMT declines to openly comment on that yet, the move would be very much in line with its "portfolio strategy to focus on long term core assets", which has recently resulted in APMT's divesting 76% shares in its Zeebrugge container terminal in Belgium in favour of COSCO Shipping Ports.
Adani Group through APSEZ already operates ports throughout India in Mundra, Hazira, Tuna-Tekra/Dahej, Gujarat, Dhamra, and Katupalli, as well as coal handling facilities. The success in securing APMT's facilities would cement the Group's position in the container segment and make it India's top private port operator. Its interest may be caused by expectations that integrated operations would create significant supply chain synergies, especially given the ongoing development at Adani Mundra Container Terminal.
APM Terminals operates 2 terminals in India: Gateway Terminals India (GTI) at JNPT where the company has 73% and Gujarat Pipavav Port Ltd, a minor multipurpose port located about 150 nautical miles north from JNPT, where APMT has 43%
GTI is the largest container terminal at JNPT handling about 40% of the port's container throughput. It is also the most efficient, as was highlighted in the recent study: in April through August 2017 the terminal recorded 39.9 moves per hour, the best results at the port. It also reduced its container dwell times to 44 hours.
At Pipavav the APMT's facility, on the contrary, has been struggling to retain its share of the country's northwestern container market. According to statistics, in 1Q 2017 Pipavav's container volume fell 4% from the prior three months. To remain competitive, the minor terminal has lately been targeting other general cargoes.