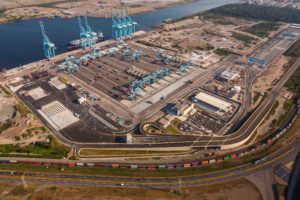 APM Terminals (APMT), one of the largest global container terminal operators, part of Maersk Group, is changing its commercial strategy to focus more on inland services for direct cargo owners rather than further investing in new deep-sea terminals, writes JOC.
"Liner customers are rapidly becoming fewer but there are thousands of landside customers large and small for us to also focus on," said chief commercial officer Henrik Lundgaard Pedersen. "We will invest in the services and the facilities to provide them better service throughout the world.  These investments are typically much smaller than those required to develop deep-sea terminal infrastructure."
According to Henrik Pedersen, this shift in strategy will result in more investment in people, processes, technologies and facilities with the aim to improve such inland services as distribution from ports to consumer markets, storage, container stuffing and consolidation.
Today APMT provides inland services in 37 countries. These operations include inland transportation, warehousing, container storage, cleaning and repairing. For example, its Cuautitlan Izcalli Intermodal Terminal in Mexico City provides the rail connection between the major ports and the main consumer market in Mexico as well as the last-mile container distribution. The facility handles 100% of Mexico-related shipments for Walmart, Mattel and Hasbro. The company also works on further reducing transit times from its recently opened terminal at Lázaro Cárdenas to Mexico City.
Other examples of inland services offered by the company today include a freight train for temperature-controlled cargo from Barcelona to the Zaragoza freight village in Spain (APMT now plans to introduce this business model in Italy's Vado terminal); stuffing and transporting containers for banana exporters in Ivory Coast; storing imported containers in Ghana and delivering them to customers by truck once they are cleared by customs. In the past two years, APMT opened 5 new regional reefer depots in Peru to support potential growth in exports of asparagus, avocadoes, grapes and blueberries. In 2018 the company plans to open 2-3 more facilities to connect the agricultural regions with its terminal at Callao Port.
The focus on inland services may well become a new frontier of expansion for global terminal operators in an era of rising competition from new investors, comments JOC and further reminds that within the last 5 years China's 3 major terminal operators — China Merchants Port Holdings, COSCO Shipping Ports and Shanghai International Port Group — have increased 4 times the number of overseas locations where they have invested, to over 40, whereas the 4 traditional global terminal operators — APMT, DP World, Hutchison Port Holdings and PSA International — together operate terminals in more than 80 locations.
APMT's new commercial strategy implies a higher level of direct engagement with cargo owners. Traditionally, terminal operators have been reluctant to deal directly with the clients of their main customers – shipping lines. Now, with the growing consolidation among container shipping lines through alliances, mergers and acquisitions, this will become crucial in APMT's strategy.
At the same time, the company intends to focus on completing the current terminal projects including those in Italy, Costa Rica, Morocco and Ghana and not to invest in new deep-sea terminals in the coming years. "We have put a lot of capital into the ground over the past number of years and will take a breather from this for a while. We have such a massive portfolio that we will continue to divest non-core assets, but overall we are still a net investor," said Henrik Pedersen.
As we wrote earlier, APMT is selling its 76% shares in the APMT Zeebrugge container terminal in Belgium to COSCO Shipping Ports, the deal was closed last week. Also, the company may soon leave the Indian market by divesting its ownership in the terminals at the ports of Jawaharlal Nehru Port Trust and Gujarat Pipavav.
APMT currently operates 76 container terminals across the globe, with 20 of them in Asia. In January-September 2017 the company's total throughput was 29.4 mln TEU, +6.5% to the same period in 2016.