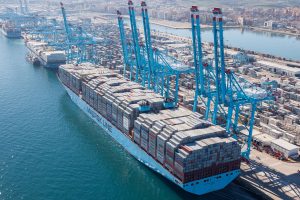 The global average call size at terminals is growing as more and more larger container vessels enter the market, thus increasing pressure on the processes and infrastructure of terminal operators, informs JOC.
The analysis was made by the leading business information provider IHS Markit based on the data supplied by the world's largest shipping lines that account for over 75% of global fleet capacity and more than 95% of global capacity in the vessel range over 4,000 TEU. The report covers 879 terminals in about 500 ports all over the world.
The analysed data demonstrate a 12.6% rise y-o-y in average call size in the first quarter of 2017, up to 1,076 containers.
With the exception of Africa, call sizes rose in all major world regions, with the biggest increases registered in Southeast Asia (up 19.2%), Latin America (up 17.1%), and North America (up 17%).
In the reported period ships with capacity over 10,000 TEU accounted for 10.7% of port calls, up from 8.5% in Q1 2016. Almost all major regions showed an increase in the number of calls by ships of this size category, with North Asia showing the biggest increase.
Vessels in the 10,000-to-14,000-TEU category accounted for around 7% of global calls and those larger than 14,000 TEU make up about 3.7% of global calls.
However, the vast majority of calls were made by ships of below 5,400 TEU capacity.
The largest average calls were in the Middle East and India (1,731 TEU), followed by North America (1,551) and East Asia (1,124).
These growing ship sizes keep increasing the pressure on terminal operators to upgrade their facilities and processes to handle larger vessels. The total world container fleet capacity was reported at 20.6 mln TEU at the end of Q2 2017, up 1.4% as compared with Q2 2016.
According to Alphaliner, during the first half of 2017, 26 ships of over 14,000 TEU capacity were delivered, with a dozen more expected to join the fleet in the coming months.
The current order book is around 14% of existing fleet capacity and 80% of it is for vessels larger than 10,000 TEU in size, according to IHS Markit.