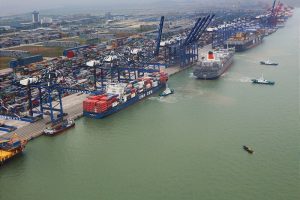 Chinese major ports have slowed down their growth in 2016, writes Journal of Commerce. The throughput of top 8 mainland China's ports was 153.3 mln TEU, which is 3% more than in 2015, whereas last year the growth rate was 3.7%.
However, all top 8 container ports posted growth, with the exception of Shenzhen, whose volumes dropped by under 1% to 23.97 mln TEU. Shanghai, the world's largest container port, increased its throughput by 1.6% to 37.1 mln TEU from 36.5 mln TEU in 2015. Guangzhou, Qingdao, and Xiamen have posted the highest levels of growth.
The world top container ports
Throughput, 2016
| Port | mln.TEU | 2016/2015 |
| --- | --- | --- |
| Shanghai | 37.1 | +1.6% |
| Singapore | 30.9 (preliminary) | -0.06% |
| Shenzhen | 23.97 | -1% |
| Ningbo-Zhoushan | 21.6 | +4.5% |
| Hong Kong | 19.6 | -2.5% |
| Guangzhou | 18.9 | +8% |
| Qingdao | 18.0 | +4.8% |
Thus, Guangzhou expanded by 8%, recording 18.9 mln TEU. The port undertakes a series of major infrastructure projects and facilities upgrades at its flagship Nansha terminals as it gears up for a planned listing once approval is granted by the China Securities Regulatory Commission. Earlier this month it set up an office in the Netherlands, Guangzhou Port (Europe) BV, in the move to extend its network in Europe, having launched successfully Guangzhou Port America LLC a year ago, which is playing an important role in bringing cargo to Nansha terminals.
China's fifth-largest container port – Qingdao – handled more than 18 mln TEU, a 4.8% rise on the 17.2 mln TEU handled in 2015. Last week Qingdao Port International entered into the Transaction Agreement with Cosco Shipping Ports aimed at developing Qingdao into an international shipping hub in Northeast Asia and to co-invest in overseas terminal projects including the Khalifa Port Container Terminal II project in Abu Dhabi. The strategic cooperation agreement implies that Cosco will acquire 16.82% stake in the port operator for USD 845.6 mln, increasing its shareholding in Qingdao to 18.41% in total. Qingdao Port International said the agreement will enable it to better exploit the opportunities under the Chinese government's One Belt One Road program and expand its international business.
The port of Xiamen, located in Fujian province on the east coast, opposite Taiwan, also performed well in 2016, having handled 9.6 mln TEU (+4.7% to 2015).
Hong Kong, which throughput has been gradually declining since 2012, has published preliminary figures showing a drop of 2.5% to 19.58 mln TEU. However, a positive trend must be noted: since August its monthly volumes have been growing, for the first time since June 2014. In December Cosco Shipping Ports and Hutchison Port Holdings Trust entered into an agreement to jointly manage 3 terminal operating companies in the port of Hong Kong, with the aim to improve operating efficiencies by deploying the terminals' facilities and human resources in a more cost effective manner, which is expected to increase the overall competitiveness of the Hong Kong combined terminals.