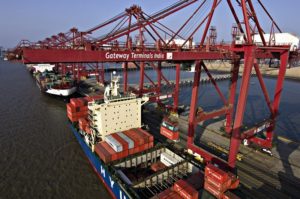 Jawaharlal Nehru Port Trust (JNPT), India, demonstrates increasing crane productivity, informs JOC. In April through August 2017 it has recorded up to 33.1 moves per hour from 32.1 moves per hour in the same period last year.
According to the data analyzed by JOC.com, the best growth was recorded at DP World's new facility Nhava Sheva Gateway Terminal 38.38 moves per hour, compared with 29.42 moves per hour previously. However, the crane productivity at its sister unit – Nhava Sheva International Container Terminal – was down to 28.91 moves per hour from 29.6 moves per hour.
The best results were shown by APM Terminals Mumbai (Gateway Terminals India): 39.9 moves per hour, although slightly down from 40.8 moves per hour during April to August 2016. That setback could have come from disruption caused by the severe cyber-attack that affected Maersk Group's global systems earlier this year.
Average crane productivity at the state-owned Jawaharlal Nehru Port Container Terminal (JNPCT), which has recently received 'Container Terminal of the Year' Award in the above 0.6 million TEUs category, remained flat, at 24.5 moves per hour. The terminal was awarded for its proactive strategies to ease congestion, smooth delivery of containers and revamping of infrastructure to support trade amidst adverse conditions at The Gateway Awards 2017 in Mumbai which is founded to mark best practices, innovation and motivation the Indian Maritime industry.
JNPT is the biggest container port in India, handling around 4.5 mln TEU annually, which makes up for 55% of the country's containerized cargo. The largest part of the port's container throughput is handled by APMT's Gateway Terminals India (39.8%), followed by the port-owned JNPCT (34%). DP World's Nhava Sheva International Container Terminal and Nhava Sheva Gateway Terminal have less shares of the pie: 16.2% and 10% accordingly.
During April-August 2017 the port has recorded a 6.2% growth in container volumes y-o-y and is now the focus of the government's efforts to boost further the productivity. The Ministry of Shipping calls for closer coordination between terminals and railway agencies to draw more truckloads onto trains, and standardization of gate-in hours for export cargo from the current 4 days to 3 days at all terminals. As a result, its share of railed cargo during August grew to 17% from 15% in the previous month.
These improvements are critical as authorities prepare to open the first phase of a fourth terminal concession awarded to Singapore's PSA International at the end of the year.