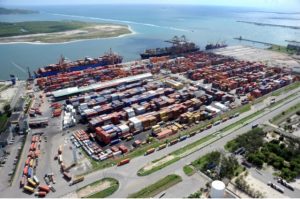 The port of Suape in the northeast of Brazil is seeking developers for the second container terminal, writes JOC.
Suape Port Industrial Complex (Complexo Industrial e Portuaria de Suape – CIPS) has initiated a tender for a technical feasibility study for a terminal with an annual capacity of 1 to 2 mln TEU. Tecon 2 will have a quay of 900m with two berths and a yard area of 250,000 sq.m. with a possibility of further expansion by another 100,000 sq.m. Estimated at more than BRL 1 bln (USD 318.8 mln), the facility is said to become the country's most valued container terminal due to its potential as a transshipment hub. Being a sheltered port with the natural draft of 16 meters, Suape intends to take advantage of the expanded Panama Canal and to accept large vessels connecting to Asia, Europe, and the United States, and feeder ships serving ports that can't handle the larger ships.
According to CIPS, the list of interested parties includes APM Terminals, Terminal Link, Porto Itapoa, in which Hamburg Sud has a share, and Wilson Sons Group, a Brazilian terminal operator with facilities in Rio Grande and Salvador. DP World and PSA International, keen to get a foothold in Brazil, are also said to be interested.
The tender expires on May 5, thereafter the participants will have 90 days to work with the state-run Planning and Logistics Company and officials from the Private-Public Finance proramme to come up with their tender proposals. The tender process itself will be finalized in early 2018.
This, in fact, is the second time when the Tecon 2 concession is put out to tender. Three years ago, it was "close to the top of the agenda", according to local port consultants. But during the Lava Jato operation – high level corruption investigation in 2014-2016 in Brazil – "nearly all port concessions were put on the back burner". However, this time the Tecon 2 bid will succeed, local sources admit.
Marcos Baptista, president of CIPS, is keen to advance the process: "We are optimistic that we will conduct the whole installation process of the new Tecon 2 and other major projects after the return of autonomy to the port of Suape. We also want to hear all the stakeholders involved in identifying the possibility of creating new regular lines that can pass through Suape, further increasing our container handling."
The only container terminal currently in operation in the port of Suape is Tecon Suape S.A, a facility owned by Philippines-based ICTSI, with the annual capacity of 600,000 TEU. The complex serves the Pernambuco state capital of Recife with population of over 4.5 mln people. In 2015-2016 its throughput was around 400,000 TEU.
Overall volume in Suape last year was 22.7 mln metric tons, up 15% y-o-y, making it Brazil's largest port.