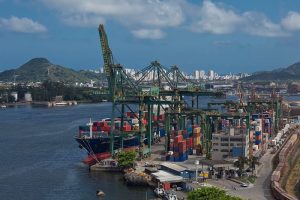 The container terminal Libra Terminais (Santos, Brasil) is to lay off at least 220 workers, writes Journal of Commerce, referring to the Union of Land based Employees in Waterway Transportation and Port Operators of the State of Sao Paulo (Settaport) and the company's own confirmation.
This measure was caused by container handling overcapacity in the port of Santos resulting in a huge loss of volumes at the Libra Terminais terminals T-35 and T-37.
The opening of new facilities Embraport (operated by DP World in partnership with Odebrecht Transport) and Brasil Terminal Portuario (operated by JV between APM Terminals and Terminal Investment Limited, port operating hand of MSC) in 2013 brought the port's number of container terminals to six and doubled the port's total capacity to 6.4 mln TEU, whereas the port's throughput in 2015 was 3.78 mln TEU.
As a result, terminal handling charges have dropped by more than 35%. In fierce competition Tecon Santos (operated by Santos Brasil), Embraport, and BTP have withstood better than their competitors, however Rodrimar and Ecoporto are almost out of the container game.
Libra Terminais share in Santos volumes has sunk from over 25% in 2011, when it handled 801,500 TEU and had 8 regular deep-sea services, to just 4.6% and 61,000 TEUs for the first 10 months of this year. Currently T-35 terminal services only 2 regular calls, the northbound and the southbound calls of CMA CGM's Brazex service to the Caribbean and "some spot calls," according to JOC's sources in Santos. Until three months ago, Brazilian coastal carrier Log-In Logistica was calling twice a week, but that service was pulled. At the same time T-37 terminal has been empty since January, handling just 33 TEU in 2016. In 2015, both Libra terminals handled 475,000 TEU, but this year their throughput is unlikely to exceed 80,000 TEU.
On top of the overcapacity and loss of traffic Grupo Libra, the parent company of Libra Terminais, is heavily constrained financially, having invested in expansion of its container terminal in Rio de Janeiro.
In the market have been circulating rumors that the crisis at Libra Terminais could lead not only to job losses, but even to the company's closure or sale to some global terminal operator. Hutchison Port Holdings and PSA International, both currently absent from Brasil, have in the past shown an interest in buying out Libra Terminais or taking a majority stake.