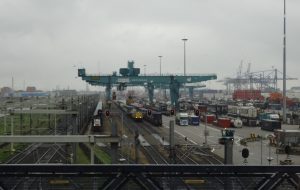 The Port of Rotterdam aims to increase its market share through expanding its reach into the central European hinterland via containerized rail by requiring new terminals to make use of the port's rail facilities and marketing its direct rail line to Germany. The detailed story on the subject appeared in JOC.com on the 6th of October, 2016.
Today only 11% of the 12mln TEUs handled annually by Rotterdam moves by rail. Despite Rotterdam's 250 weekly rail connections, 53% of cargo moves via truck and another 36% by barge, the basic reason being frequent delays in rail transportation between countries due to switching of trains and crews.
It is vital for Rotterdam to reach new markets in order to keep its ranking as the top European container gateway. In the first half of 2016 the port's volume fell by 2.3% as compared to H1 2015, to 6.1 mln TEUs. In 2015 the annual throughput of Rotterdam decreased by 0.5% (12.2 mln TEU). Increased rail transport will also help the port avoid congestion flare-ups caused by the massive cargo discharges of mega-ships.
In an effort to overcome shipper resistance to rail transport, Rotterdam requires all new terminals opening at its Maasvlakte II site to agree to move half of their cargo via containerized rail and only 35% maximum by truck. Three terminals operate within Maasvlakte and there are 325 hectares left for development.
Rotterdam needs to expand its rail services in order to grab cargo headed to Eastern Europe and Southern Germany. In this market race the port has to compete with Antwerp and Hamburg, as well as with Piraeus, that can reach Eastern Europe via its own rail connections.
Among the services marketed to shippers is the Betuweroute, a dedicated double-track freight railway from Rotterdam to Germany allowing cargo owners to avoid delays at European borders. Cargo gets to the German border within 3 hours, compared to an 18-hour barge transit to Duisburg. The rail route's transit time is competitive with trucking because it's a 2.5 hour drive to Venlo, a German logistics hub on the border.
Another rail service is Rotterdam-Bayern Express operated by ECT and TX Logistik, that boosted traffic with southern Germany by 50% in H1 2016. As it was said by the Rotterdam port authority, much of the new business has been lured from Hamburg and Bremerhaven despite the same transit time between the German ports and Rotterdam as more and more shipping lines are choosing the Dutch port as their first and last port of call in Europe.
In addition to bringing new business to Rotterdam, the Netherlands government is supporting the containerized rail push to curb its greenhouse gas emissions. European Union members have agreed to reduce those emissions by 60% by 2050 compared with 2010 figures.