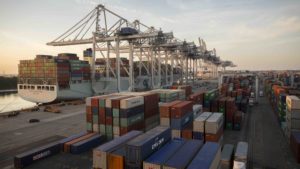 The major US East Coast ports were awarded USD 224 mln by the US Army Corps of Engineers, the federal funding is allocated for their dredging projects, informs JOC. The ports need deepening in order to be able to accommodate Post-Panamax vessels and to capture the growing share of Asian imports that are shipped today mostly via the West Coast ports.
The U.S. Army Corps of Engineers delivered to Congress its Fiscal Year 2018 work plan for the Army Civil Works program last week. This plan includes the funding to deepen the harbors in Savannah, Jacksonville, and Boston. The port of Savannah receives the largest amount – USD 84.8 mln, which is exactly what the Georgia Ports Authority requested to dredge the inner harbour and the entrance channel. This will help the port to keep the project on track to finish in 2022.
Besides, JOC revealed earlier that the Charleston Harbor dredging project would receive USD 49 mln out of the same US Army Corps Work Plan. This is less than the port needs, so the state of South Carolina is expected to offer a loan of USD 50 mln to bridge the difference. The works to deepen the port's inner harbour from 45 to 52 feet (15.8m) started in March 2018 and are to be completed in 2021, as planned, as was confirmed by Jim Newsome, CEO of the South Carolina Ports Authority.
Jacksonville is to get USD 32.4 mln. The port's project implies deepening of its channel from 40 to 47 feet (14.3m), the work began in February 2018 and is expected to be completed by 2021.
Boston will receive USD 58 mln, which includes USD 56.2 mln todeepen the Boston Harbor inner channel to 47 feet and the outer harbour to 51 feet during the low tide.
As we wrote earlier, although the US West Coast ports continue to dominate in the US-Asia trade, the East Coast ports, and particularly those on the Southeast coast, are gradually becoming preferred gateways for shippers and shipping lines moving Asian imports into the US. Thus, in Q1 2018 the total volume of US imports from Asia was 3.9 mln TEU (+8.9% y-o-y). According to JOC, the US West Coast ports handled 2.4 mln TEU (+5.6% y-o-y), which accounts for 61.5% and 1.9% less than in Q1 2017, whereas the US East Coast ports' market share rose 1.3%, to 32.8%.