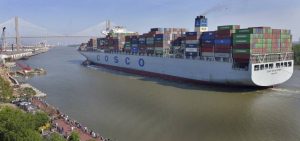 Last week the 13,092 TEU COSCO Development called Virginia, Savannah and Charleston and became the largest containership ever calling the US East Coast ports. But although this has re-affirmed the status of these ports as major US gateways for Asian imports, it was also a warning that a significant investment is still needed if they are to handle mega-ships on a regular basis, writes JOC.
Although COSCO Development was successfully handled at these ports, special considerations had to be taken into account due to the vessel's size. For example, it could call Savannah only at high tide within a 3 to 4 hour tidal window. Besides, neither at Savannah nor at Charleston it could have been handled if fully loaded. On the US East Coast only Virginia, Baltimore and Miami have depths of 50 feet (15m) needed to accommodate fully-loaded 14,000-TEU vessels.
This arrival has highlighted the necessity for these seaports to deepen their harbours in order to serve the mega-ships that have become the new norm of today's container shipping.
Overall, 15 ports on the East and Gulf coasts of the United States need about USD 4.6 bln in infrastructure funding after being authorized by Congress to allow for bigger ships, and only three of them have cleared the permit requirements needed to start dredging: Savannah, Charleston, and Jacksonville, said Jim Walker, navigation policy director for the American Association of Port Authorities. And still, none of these projects will be completed earlier than 2020.
In 2015, Savannah started deepening 39 miles (62,8km) of the Savannah River from 42 to 47 feet (14.3m), and this work will be finished not earlier than January 2022. The project's cost has been recently readjusted to USD 973 mln, 38% more than initially calculated in 2014.
The Port of Charleston plans to dredge its existing entrance channel from 47 to 54 feet (16.5m) and the inner harbour from 45 to 52 feet (15.8m), making it the deepest harbour on the US East Coast. The project will be started this autumn and is expected to be completed a year before Savannah's. Its cost is estimated at USD 502.7 mln, of which USD 300 mln have been allocated by the state of South Carolina and USD 200 mln in federal funds still require the US government allocation.
Jacksonville's USD 600 mln project implies deepening of its channel from 40 to 47 feet (14.3m) and is expected to be completed by 2020.
JOC marks that although the West Coast continues to dominate in the US-Asia trade, the East Coast, and the Southeast in particular, are gradually becoming preferred gateways for shippers and shipping lines moving Asian imports into the US. Thus, in January-April, 2017, the West Coast's market share of Asian imports decreased from 66.8% to 65.3% y-o-y, whereas the East Coast's share increased to 31.1% from 30.4%.
COSCO Development is one of 11 vessels deployed on the Ocean Alliance's weekly South Atlantic Express service connecting Virginia, Georgia, and South Carolina with Hong Kong, Yantian, Ningbo and Shanghai via the Panama Canal.