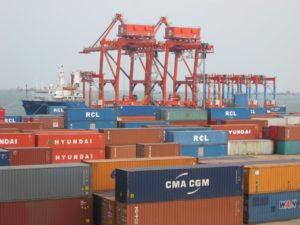 Sihanoukville, Cambodia's only deep-sea port, is about to launch a new multipurpose terminal that will be able to accommodate larger vessels, informs The Phnom Penh Post. According to Lou Kim Chhun, Chairman and CEO of Sihanoukville Autonomous Port (PAS), the inauguration is scheduled for June 25 and will be presided over by Prime Minister Hun Sen.
The new facility will have a berth of 330m with depth alongside of 13.5m and will be able to load shipments weighing in the range of 40,000-50,000 tonnes, which is more than twice the limit of existing terminals.
"As the terminal at the sea port is deeper and can handle bigger vessels with heavier loads, sea transportation costs will become cheaper," Kim Chhun said.
PAS began the construction in early 2015 using a soft loan from the Japanese development agency JICA, with the focus on dry bulk agricultural exports, such as dried tapioca and milled rice. As for the cost of the project, Kim Chhun indicated it as "more than USD 70 mln".
Cambodia Freight Forwarders Association (CFFA) President Sin Chanthy said that the new facility at the port of Sihanoukville will contribute to a greater level of competitiveness in exporting goods and will ease congestion at the port as well as the work of freight forwarders. He noted: "With the new terminal becoming operational, large vessels will make up a larger part of the traffic. Goods will be delivered on time in a shorter period which will strengthen the business's competitiveness."
Besides, the state-owned PAS, which got listed on the Cambodia Stock Exchange in June 2017 raising USD 27 mln in its IPO, also unveiled plans late last year to build a new container terminal as part of its expansion project. The Port Authority signed an agreement for a low-interest loan of some USD 209 mln for this development that is scheduled to start by early 2019 and to be completed by the end of 2022. The new container facility will be equipped with a 350m quay with a depth of 14.5m and will increase the port's current annual capacity of about 400,000 TEU to over 700,000 TEU.
The existing container capacities are expected to be exhausted by 2023, so the growing container traffic calls for the active expansion.