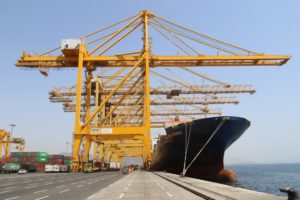 Gulftainer plans to invest USD 3 bln over the next five years with financing from investors and banks, as the privately owned UAE port operator seeks to double its container capacity and acquire assets, informs The National quoting Gultainer's CEO.
Peter Richards, Group Chief Executive Officer, told the publication that the company wants to reach 10 mln TEU in 5 years, increase its cargo handling and engage investors to help fund its USD 2-3 bln expansion.
"We should not to be restricted to TEUs and containers because the entities that we're looking at now are not just containers but a lot of them are break bulk and general cargoes," said Mr. Richards. "We hope to continue our growth in the US market and at the same time we are looking at East and West Africa, and we are looking at Asia."
Gulftainer, which is a part of Sharjah's Crescent Enterprises, owned by the Jafar family, currently manages 9 container terminals, with main operations in the Middle East: its flagship gateway in Sharjah and Khorfakkan (United Arab Emirates), Northern Container Terminal in Jeddah and Jubail Port (Saudi Arabia), in Umm Qasr (Iraq), in Tripoli (Lebanon).
But the port operator is expanding globally. It already has operations in Recife (Brazil) and now is penetrating into the US market.
As we wrote earlier, in March Gulftainer reached a preliminary agreement with the State of Delaware, USA, to construct a new container terminal on the Delaware River at the Port of Wilmington. In September, this agreement materialized in a 50-year USD 600 mln concession, whereby the company plans to invest around USD 400 mln in the development of a 1.2 mln TEU facility. This will be Gulftainer's second US venture following its earlier USD 100 mln investment in Florida's Port Canaveral in 2015, where the company has a 35-year concession to develop Canaveral Cargo Terminal – a new state-of-the-art container and multi-purpose facility.
Talking about its expansion plans, Peter Richards said: "We are looking at two to three entities to buy an existing business here in the Middle East and the US. I am hoping the USA one will be concluded in 2019, the Middle East one maybe in 2020." But he declined to give more details.
The company is also hoping to enter Africa next year, "a continent that has so much of raw materials that the world needs at this time and the only way to get those out of Africa is to build good gateways."
To finance its projects, the company intends to attract certain bank finance and investors, including sovereign wealth funds and private equity players. But Gulftainer would not sell a stake in the company or seek an IPO.