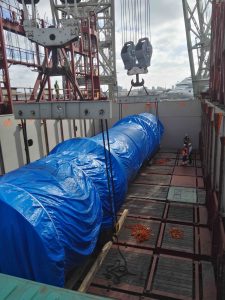 HHLA Container Terminal Tollerort (CTT) in Hamburg handled a 126-tonne project cargo on 1 June, informs HHLA. The giant rotary cooker of 24 metres in length and 4.40 metres in diameter was made in China and loaded on board CSCL Jupiter, a container ship of 14,000 TEU capacity of COSCO Shipping Lines, in Shanghai in April. In 37 days it arrived in Hamburg.
The discharge in Hamburg was made by two floating cranes. The containers above the cargo hold where the package was stored were discharged the night before. Early the next morning, both of HHLA's floating cranes, operating in tandem, lifted the rotary cooker from the cargo hold, where it was secured on eleven 40' flatracks. To do this, they first had to secure themselves together on the towering side of the 366-metre-long container ship. The cargo was then moved and lowered onto an awaiting inland vessel.
Thomas Lütje, Sales Director at HHLA, commented: "The transhipment underpins the flexibility and level of performance at HHLA's container terminals. Our facilities are not just highly efficient specialists when it comes to container handling, we also offer impressive solutions for the transhipment of heavy goods."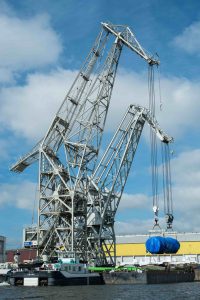 The European headquarters of COSCO Shipping Lines is located in Hamburg and includes a special projects department exclusively committed to breakbulk cargoes. This year alone, the team has handled 80 heavy and out-of-gauge shipments via the ports in Northern Europe, 70 of these in Hamburg, says the press release of the Port of Hamburg. Yet, this is never a routine matter. "Despite all our experience, handling this rotary boiler was something special," confirms Dennis von Gogh of COSCO's special traffic team in Hamburg. "We had just six weeks to prepare for this load, but its weight and dimensions meant that it was by no means an everyday job."
COSCO's project cargo specialists have calculated various routes and handling options and according to Dennis von Gogh, "Hamburg's handling facilities and excellent hinterland link with Czechia via the Elbe made it the best solution."
The rotary cooker will be shipped by barge from Hamburg by the river Elbe to Melnik in the Czech Republic, wherefrom it will cover at least 300 km by road to its final destination, the Czech city of Olomouc, where it will be used in the food industry to process grains or oilseeds.