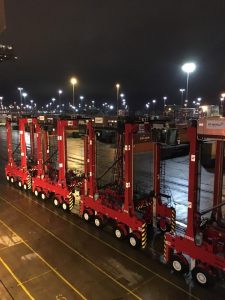 8 brand new straddle carriers have arrived at DP World Southampton as part of an extensive investment and modernisation programme, reports the terminal operator.
The new 1 over 2 Kalmar straddle carriers are more fuel efficient and can perform twin lifts giving the terminal the advantage of having more machines that are able to undertake twin discharge from beneath the quay cranes, thus improving the terminal's operations and efficiency.
With the delivery of these machines DP World Southampton can retire eight older, less fuel efficient straddle carriers. In the last three years, a total of 36 straddle carriers have been decommissioned by the container terminal as part of its fleet renewal programme.
CEO of DP World Southampton Nick Loader said: "These machines are greener and more efficient and this is important because, like all responsible businesses, we are always looking to reduce our energy consumption and carbon footprint."
The machines have been delivered fully assembled on board the vessel MV Meri directly from Kalmar's assembly plant in Gdynia, Poland. They will undergo necessary performance testing and some additional installation work before they enter operational service.