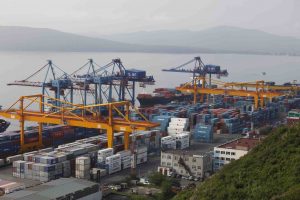 The container throughput of Russian sea ports in January-February 2017 has grown by 8.6% on a year-on-year basis, up to 668.27 th. TEU, TASS news agency reports the data by the Association of Russian sea ports. A 10% increase is noted in import volumes, to 292.05 th. TEU. Exports have also increased: 279.37 th. TEU, +8,4%. Local cabotage volumes were 90.73 th. TEU (+6,5%) and transit dropped by 14,8%, 6.13 th. TEU.
TOP-10 Russia's ports handled 97.6% of the country's total container volume, or 652.08 th. TEU.
The leading container port in Russia is traditionally Bolshoy (Large) port of St. Petersburg, with the throughput of 292.18 th. TEU (+5,2%) in the first two months of 2017, which accounts for 43.7% of total Russian container handling. The port of Vladivostok has dramatically increased its container volumes by 29.6%, up to 112.04 th. TEU and moved from the third up into the second position, having ousted Novorossiysk with the volume of 107.41 th. TEU (+6.9%) into the third line. The first three largest ports significantly leave behind the rest of the TOP-10, as the fourth position is occupied by Vostochny port with only 52.7 th. TEU (+18.4%) and the fifth is Kaliningrad with 29.9 th. TEU (-9.7%).
The Far Eastern port Petropavlovsk-Kamchatsky grew by 9.3%, up to 9.5 th. TEU and moved up to the eighth position, from the ninth last year. Another Far Eastern port Magadan entered the TOP-10 from the 11th to the 10th position, by handling 7.47 th. TEU (+19.8%), thus displacing the northern port of Murmansk, which was number 10 in January-February, 2016.
The Arctic port of Dudinka has demonstrated the largest decrease of container throughput, by 24.6%, down to 8.58 th. TEU and descended from the 8th to 9th position. However, this may be attributed to the seasonal drop in volumes.