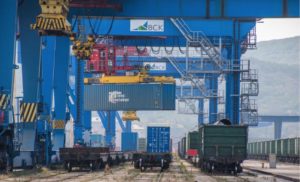 Vostochnaya Stevedoring Company (VSC), belonging to Russia's leading container terminal operator Global Ports and operating one of the largest container facilities in the Russian Far East at the Vostochny port, has launched a container rail service to Uzbekistan.
The pilot block train was formed at VSC using VSC's own platform wagons. On 29 March 2018, the terminal loaded 60 40-foot containers on 38 platforms and dispatched them from the Nakhodka-Vostochnaya railway station. The train arrived at the Chukursay railway station in Uzbekistan on 7 April. Two days later, 76 40-foot containers loaded with textile yarn and polyethylene in transit were sent back to Vostochny. The train arrived at VSC on 20 April.
The new service is a joint project of VSC and InterRail Service, Russian branch of the Swiss registered rail freight transportation company InterRail Holding AG. The partners intend to provide the regular service to Uzbekistan on a monthly basis.
Being the initial point of the Trans-Siberian Railway, VSC boasts three rail fronts with a total capacity of 269 wagons, from where the terminal offers regular rail services to Moscow, Novosibirsk, Ekaterinburg, Kazakhstan as well as to Europe: Poland, Slovakia, Hungary.
Built as a greenfield project in 1976, today the terminal has the total annual capacity of 650,000 TEU. Spread on the area of 77 hectares, VSC has 4 berths of 1,284m length with drafts of 11 to 13.5m.
The terminal lost much of its traffic during the economic crisis in 2014 in Russia. In 2017, VSC managed to partially regain its volumes by increasing the throughput by 23%, up to 370,750 TEU.