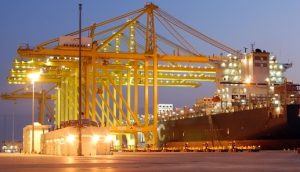 Maritime authorities of the United Arab Emirates, Saudi Arabia and Bahrain closed their berths to all vessels under the flag of Qatar, owned by Qatar and other vessels traveling in and out of Qatari ports, informs Bloomberg. This may cause severe disruptions in oil and gas trade as well as in container shipping.
On Monday, 5 June, Saudi Arabia, Egypt, the UAE and Bahrain severed diplomatic ties with Qatar over its relationship with Iran and allegedly support for extremist groups. The countries closed their airspace to commercial flights and banned entry to their sea ports, including the UAE's Fujairah, the Gulf's biggest bunkering hub, and Jebel Ali, the major container terminal in the Middle East and the 9th largest container port in the world, handling about 15 mln TEU annually.
The next day Maersk Line said in a statement to Reuters that the company could no longer transport goods in or out of Qatar because feeder transshipments from Jebel Ali to Doha are suspended.
"We have confirmation that we will not be able to move Qatar cargo in and out of Jebel Ali," the spokesman said. "We expect disruptions to our Qatar services. The situation is very fluid."
The spokesman also commented that Maersk Line was looking at other routes such as Oman and would notify customers about alternative options as soon as possible.
Maersk's APM Terminals manages a 5 mln TEU container terminal in the port of Salalah, Oman. Therefore, this looks an obvious alternative.
Nonetheless, Maersk Line has ceased cargo acceptance between Qatar and the UAE, Saudi Arabia, Egypt, Bahrain and Yemen. Besides, the shipping line has temporarily closed bookings for cargo from the rest of the world that requires transshipment at Jebel Ali to and from Qatar.
DP World, the operator of Jebel Ali Port, said in a statement on Tuesday that, "all vessels with the flag of Qatar, or vessels destined to or arriving from Qatar are not allowed to call at any DP World terminals in the UAE until further notice."
Earlier the Port of Fujairah issued a statement saying that, "vessels flying the flag of Qatar or vessels destined to or arriving from Qatar ports are not allowed to call on the Port of Fujairah or Fujairah Offshore Anchorage regardless of the nature of their call until further notice."
Hamriyah Port in Sharjah and Abu Dhabi's port facilities are also closed to Qatari shipping traffic, as well as the ports in Saudi Arabia and Bahrain.