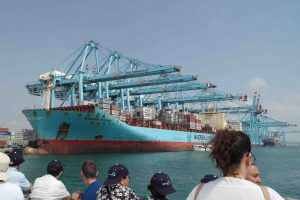 For the fifth consecutive year, the Port Authority of the Algeciras Bay (la Autoridad Portuaria de la Bahía de Algeciras – APBA) has been arranging an exciting campaign – "Conoce tu Puerto" ("Get acquainted with your port"). From 22 May till 8 June anyone can board a specially dedicated boat and take a sea trip observing the berths and terminals of the Spanish largest port. The APBA expects over 2000 tourists and citizens living nearby to take part in the action this year.
With this initiative, the APBA participates in the official activities of the European Union dedicated to celebrate the European Maritime Day, the annual meeting of Europe's maritime community, which this year took place on 18-19 May 2017 in Poole, UK.
Port.Today was kindly invited by the APBA to participate in one of these boat tours and on a sunny morning last Friday we set off. That day the port of Algeciras was expecting the arrival of the grand MADRID MAERSK, the second largest containership in service today, with the capacity of 20,568 TEU. However, due to the new wave of the dockworkers' strikes in Spanish ports Maersk has diverted the vessel to Tanger Med.
Still, it was an interesting excursion and today we would like to share with you the nice pictures of the major Port.