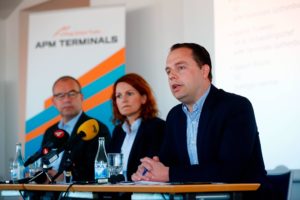 On Tuesday, June 20, APM Terminals Gothenburg in Sweden handed a notice of termination to 160 workers, out of total 450 employees, following "a sharp fall in volumes over the past year" due to the conflict with the Swedish Dockworker's Union (SDU) that has been going on since early 2016.
Swedish newspaper Göteborgs-Posten reported from the press conference held by APM Terminals and the Port of Gothenburg on Tuesday that during the recent months of the conflict APM Terminals lost 20% of its container volumes. According to sources, last week the terminal handled only 15% of its pre-dispute weekly throughput: 1,500 TEU.
CEO of APMT Gothenburg, Henrik Kristensen said: "This has been a difficult but necessary decision. We are in a critical situation and we have lost several of our customers. We are now faced with the necessity of winning back confidence and reshaping our operation to the current volume. For our long-term survival, we see no other option than to make major changes to our operation and be a stable employer for the benefit of our workforce and our owners."
Apart from the redundancies, APMT Gothenburg will now run on a two-shift basis without night-time services, once redundancy negotiations are completed.
Sophia Tuveson, HR manager APMT Gothenburg, said: "Our objective is that the negotiations will take place promptly and we hope to complete them within a couple of weeks, so that we can then inform the members of staff affected."
The announcement of the layoff came a day before the start of the next round of negotiations between APMT Gothenburg and SDU.
As we wrote earlier, the dispute between the terminal operator and the dockworkers' union has been ongoing for over a year, caused by a change in the company's personnel policies. During this period SDU, where 85% of the terminal's personnel are members, initiated 14 blockades and 9 strikes. Now on May 19 APMT Gothenburg enforced a 5-week lock-out until June 30, preventing SDU members from working between 16:00 and 07:00. According to the union, the lock-out closed the terminal for about 300 hours.