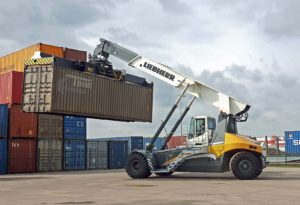 The Duisburg Intermodal Terminal (DIT) in Germany, part of the extensive European container hinterland logistics network of CONTARGO group, founded by Rhenus SE & Co. KG, has successfully tested the Liebherr Reachstacker LRS 545 at its daily operations. The terminal has been utilizing the machine since summer 2017 and remained highly satisfied with a lower fuel consumption in comparison to other reachstackers as well as with its advantageous design and the utilisation of the latest technology.
DIT was opened in 2002 on the Lower Rhine as a hinterland trimodal terminal with truck, barge and rail services. It has an annual transhipment capacity of approximately 400,000 TEU and serves as a gateway for the Lower Rhine region to the Benelux seaports combined with rail connections to Southern Europe.
Currently DIT is operating 10 reachstackers from various manufacturers in a three-shift-operation. Following a half-a-year trial usage of Liebherr Reachstacker LRS 545, the terminal management as well as the operators are exceedingly satisfied with its overall performance and the LRS 545 immediately has been included into the port's fleet.
The drivers commended the reachsteacker due to its excellent visibility based on its wedge-shaped design and the high manoeuvrability despite a wheelbase of 6.5m.
The fuel consumption of the new LRS 545 ranges around 16 litres per operation hour under the prevailing circumstances. That enables fuel savings up to 8-9 litres in comparison to competing reachstackers.
The LRS 545 is known as one of the most technically innovative devices in the market, which is mainly due to the single-wheel drive on the front axle and the 230 kW diesel engine (Stage IV / Tier 4 final). Additionally, there are several unique technical features like a hydrostatic drive that enables the omission of wear-intensive parts such as the gear or the cardan shaft. If required, it is also possible to install a hybrid system (Pactronic®) with a capacity of 110 kW. Complete equipment with LED luminaires for uniform illumination even in difficult lighting conditions is standard.
The supervision of the reachstacker will be exercised by a service subsidiary in Hamburg and a branch office located in Oberhausen. This will guarantee short reaction times and the best possible service to the customer.