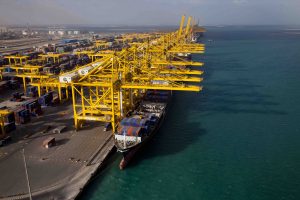 Dubai-based port and terminal operator DP World Limited handled 63.7 mln TEU across its global portfolio of container terminals in 2016, as announced in today's press release of the company. This represents a 3.2% growth of gross container volumes year-on-year on a reported basis, and 2.2% on a like-for-like basis (excluding 4 terminals opened or acquired in 2016), which compares favourably to the industry estimated growth of 1.3% for 2016.
The strongest growth (+4.6%) was posted by the facilities of Asia Pacific region & India subcontinent (29.6 mln TEU). The next large cluster – Europe, Middle East and Africa – handled 26.3 mln TEU (+1.4%), of which UAE volumes dropped by 5.3%, down to 14.8 mln TEU from 15.6 mln TEU in 2015. The American and Australian terminals reported a 4.1% growth of gross volumes (7.7 mln TEU), however on a like-for-like basis the volumes dropped by 2.4%.
In the 4th quarter, gross reported volumes reached 16.1 mln TEU growing by 6.0% year-on-year driven by strong growth in Asia Pacific and Europe.
DP World consolidated terminals (those where the operator has control as defined under IFRS) handled 29.2 mln TEU during 2016, +0.4% on a reported basis and down 1.6% on a like-for-like basis.
DP World Group Chairman and CEO Sultan Ahmed Bin Sulayem commented on the published results: "Despite the challenging market conditions, particularly at our flagship Jebel Ali Port, our portfolio continues to deliver ahead-of-market growth, which once again demonstrates the benefits of operating a globally diversified portfolio. We are pleased to see volumes stabilising in the UAE and as we look ahead into 2017, we expect our new developments in Rotterdam (Netherlands), Nhava Sheva (India), London Gateway (United Kingdom) and Yarimca (Turkey) to drive growth in our portfolio."
Bin Sulayem stressed the company's intention to maintain capital expenditure discipline by bringing on capacity in line with demand, focusing on higher margin cargo. Improvement of efficiencies and cost management are among the priorities to drive profitability.
Not all major container terminal operators have published their 2016 operational results so far. Thus, Hutchison will announce them at the end of this week, with a fall expected due to weaker Intra-Asia trade and transshipment cargoes. APM Terminals also will do that later in February, however based on the 3Q 2016 results a 5-7% rise in the volumes can be forecasted, following last year's drop of 6%. For the moment, the total throughput rating of the majors looks as follows.
Top 5 container terminal operators
Based on total throughput of the controlled terminals
| Terminal Operator | 2016, mln TEU | 2015, mln TEU | 2016/2015 |
| --- | --- | --- | --- |
| Cosco Shipping Ports | 95.1 | 90.5 | +5.1% |
| Hutchison Port Holdings | TBA | 83.8 | TBA |
| APM Terminals | TBA | 69.3 | TBA |
| PSA International | 67.6 | 64.1 | +5.5% |
| DP World | 63.7 | 61.7 | +3.2% |