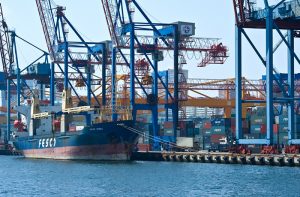 Summa Group, the major shareholder of FESCO Transportation Group, is reported to be in talks to sell a minority stake in FESCO to a consortium headed by DP World and the state-run Russian Direct Investment Fund (RDIF), informs Financial Times. The deal may amount to several hundred million dollars and include special corporate governance rights allowing to control the business.
FESCO is a Russia's leading transport and logistics holding company, operating Vladivostok Sea Commercial Port with a container terminal of a 600,000 TEU capacity, a fleet of 20 vessels and a range of container trains along the Trans-Siberian railway.
In late 2012 Summa Group acquired 56% of FESCO from Sergey Generalov, bringing its total shareholding in the company up to 70%. In the recent years FESCO has been suffering from the economic recession in Russia and a heavy debt load. Thus, according to its consolidated financial statement of 2015, FESCO closed the year with a loss of RUR 11.5 bln (USD 166 mln). The disclosure of 2016 financial results is being delayed due to the ongoing talks with the banks with regards to the company's debt restructuring. Last year FESCO defaulted on the interest payments for its Eurobonds. According to FT sources, bondholders are close to agreeing a 25% reduction on the USD 736 mln of the outstanding debt.
Therefore, the current deal is seen as a way to solve FESCO's financial struggles. However, the outcome is not so obvious. Summa is required to seek the government approval to sell control of the port of Vladivostok, which is a strategic Russian asset, to overseas investors. Besides, the parties are now performing due diligence on the business and might decide not to pursue a stake.
Although DP World did not comment on any potential transaction, it said that it was looking at infrastructure opportunities in Russia since launching a joint venture with RDIF in January 2016. The JV is aimed at investing up to USD 2 bln in port, transport and logistic infrastructure assets in Russia.
As we wrote last year, the Dubai port operator, together with RDIF, had previously declared its interest in acquiring shares of Novorossiysk Commercial Sea Port. Interestingly, the port is another asset of Summa Group, which owns 50% of the facility jointly with Transneft, the Russian state-owned oil pipeline transportation monopoly. 20% of the port belongs to the Russian government and is scheduled for privatization in 2017-2019.