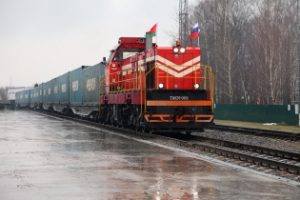 The official ceremony dedicated to the arrival of the 25th regular container train FESCO Minsk Shuttle took place in Minsk, Belarus on 7 March 2017. The weekly rail service from Vladivostok port in the Russian Far East to Kolyadichi station in the Republic of Belarus was launched in September 2016. As announced by FESCO press release, the 25th train of 83 containers left Vladivostok on 25 February 2017 and reached its destination in 10 days.
FESCO Minsk Shuttle, operated by FESCO Transportation Group in co-operation with one of the largest Belarus' logistics companies "Beltamozhservis", is the only regular container service connecting the Russian Far East and the Republic of Belarus by land. It is part of FESCO intermodal supply chain ensuring goods delivery from the Asia Pacific region. The 25th train arrival demonstrates the sustainability and high quality of the worked-out transportation technology.
FESCO Minsk Shuttle was initiated in response to an increasing demand of a shorter shipping route via the Russian Far East. Traditionally, landlocked Belarus receives its cargo by deep sea route via the Suez Canal and the ports of the Baltic states, mostly Lithuania. The rail service, as well as preliminary customs declaration applied in it, allow not only significantly shorten the transit time but also contribute to increasing the volumes of transit shipments through the territories of economic allies Russia and Belarus, to development of their foreign trade.
FESCO Transportation Group is one of the leading private logistics companies in Russia with operations in ports, rail, integrated logistics and shipping business. The majority of FESCO's operations are located in the Russian Far East, where FESCO is the leader in container shipping due to its international services to/from Asian countries, cabotage services along Russian coast and rail shuttle services. FESCO owns Vladivostok Sea Commercial Port.
According to the operational results of year 2016 published today, FESCO rail container transportation volumes reached 191.2 th. TEU, +9.5% to 2015. Vladivostok Sea Commercial Port's container throughput in 2016 was 330.1 th. TEU, – 4.3% to 2015.