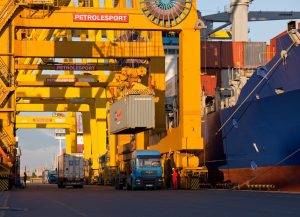 The leading Russian container terminal operator Global Ports Investments PLC (Global Ports, 32% of total Russia's container volume) has announced today its operational and financial results for year 2016.
The Group reports profit of USD 61.3 mln against last year's loss of USD 33.7 mln. Its revenue decreased by 18.3% as compared to 2015, at USD 331.5 mln, while full-year Adjusted EBITDA declined by 22.9% to USD 224.3 mln, mainly due to lower container throughput and a 2.4% decrease in average revenue per TEU, which was partially offset by growth in other cargo throughput.
The Group's Consolidated Marine Container Throughput in 2016 was 1,128 th. TEU, which is 19% less than in 2015 (1,393 th. TEU). The company explains the decline in the throughput by the Group's focus on providing a premium quality service and maintaining a disciplined commercial strategy against a backdrop of increasing competition in a market with low capacity utilization rates.
As we wrote earlier, total Russian container port throughput in 2016 was 3.99 mln TEU (+1.4%), while capacity utilisation across the industry remained below 50%.
Vladislav Baumgertner, CEO of Global Ports Management, commented: "While we began to see some encouraging signs starting in the second half of 2016, the Russian container market remained sluggish for the year as a whole. Within this context, we focused on developing additional revenue streams from other cargoes as well as improving efficiencies within our business. While these other cargoes represent a minor part of our business, it is noteworthy that our handling volumes of bulk increased 67% last year."
The company's Consolidated Marine Bulk Throughput in 2016 reached a record of 2.21 mln tonnes, compared to 1.32 mln tonnes in 2015.
Today, the Group also has announced that Vladislav Baumgertner steps down from his post, having accepted a role outside the port industry. As from 22 March 2017 the new Chief Executive Officer will be Mikhail Loganov, who has been the Chief Financial Officer of Global Ports since October 2013. In addition to his role as CFO, Mr Loganov has served as a member of the Board of Directors since December 2008. Vladislav Baumgertner has been serving as the Group's CEO since August 2015.
Global Ports' major shareholders are Transportation Investments Holding Limited (operating under the brand name of N-Trans, 30.75%) and APM Terminals B.V. (30.75%). 20.5% of Global Ports shares are traded in the form of global depositary receipts listed on the London Stock Exchange. The Company confirms that it has chosen the United Kingdom as its Home State.
Global Ports Investments PLC. container throughput (th.TEU)
Terminal
Region
2016
2015
Dynamics
Marine Terminals
Petrolesport
Russian Baltics, St.Petersburg
265
376
-29.7%
Vostochnaya Stevedoring Company
Russian Far East, Vostochny port
301
353
-14.7%
Moby Dik
Russian Baltics, Kronstadt
155
169
-7.9%
First Container Terminal
Russian Baltics, St.Petersburg
480
578
-16.8%
Ust-Luga Container Terminal
Russian Baltics, Ust-Luga
82
86
-4.3%
Multi-Link Terminals
Finland, Helsinki and Kotka
188
272
-31.1%
Inland Terminals
Yanino Logistics Park
St.Petersburg region
115
107
+7.5%
Logistika-Terminal
St.Petersburg region
174
110
+58.4%