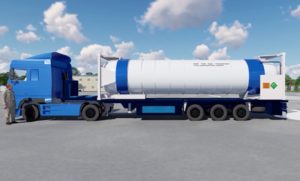 Gazprom Gazenergoset Heliy, a branch of Russian energy group of companies Gazprom, intends to develop a logistic hub for handling containers loaded with helium in Primorye, Russian Far East, informs today the press service of Russia's Ministry of the development of the Far East. The facility is to be constructed at the advanced development area Nadezhdinskaya (TOR Nadezhdinskaya), a dedicated area 32km away from Vladivostok created by the government for development of logistic and industry projects. Gazprom Gazenergoset Heliy became the resident of TOR Nadezhdinskaya in May 2017.
The hub will be part of the supply chain of exporting helium produced by the Amur gas processing plant (Amur GPP), which is being constructed by Gazprom with the expected launch in May 2021. Helium is planned to be transported in a liquid state at an ultra-low temperature (-269 °C) in special cryogenic containers with multilayer vacuum and nitrogen insulation. As reported, after a number of technological and service procedures at the logistic hub, the helium containers will be transported to the ports of the Russian Far East for further shipping to overseas customers.
The project is synchronized with the construction of the Amur GPP, with the designed capacity of 60 mln cubic meters of helium annually. At full capacity, the helium logistic hub, which is estimated at RUR 5.15 bln. (apprx. USD 90 mln), will become one of the largest in the world.
The project was presented in Vladivostok to potential clients – world's largest helium traders – as well as to port operators of Nakhodka and Vladivostok. Presently, Gazprom finalizes signing long-term contracts for export of helium.
In its Eastern Gas Program, Gazprom highlights the huge helium resources within Eastern Siberia's hydrocarbon fields, which justify the necessity to develop Russian helium production. At Eastern Economic Forum 2017 that took place in Vladivostok in September, Alexey Miller, Chairman of Gazprom, said: "The Amur GPP will process 42 bln cubic meters of gas per year. Russia has not built facilities of such capacity in 40 years. When it goes into operation, the Amur GPP will become the world's second largest in terms of capacity. It will form the backbone of the gas processing and petrochemical cluster in the region – I am talking about ethane, helium, & liquid hydrocarbon gases."