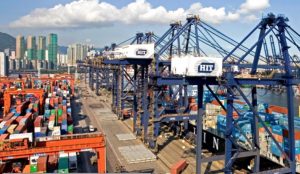 On February, 10, container terminal operator Hutchison Port Holdings Trust (HPH Trust) published its 2016 results. The throughput of its deep-water ports fell by 6% as compared with year 2015. The volumes of Yantian International Container Terminals (YICT) dropped by 4%, to 11.697 mln TEU (12.166 mln TEU in 2015). The combined throughput of its Hong Kong terminals – HIT, COSCO-HIT and ACT – dropped by 8%, from 11.761 mln TEU to 10.810 mln TEU.
Among the reasons for lowered performance the operator indicates the decrease in empty and transhipment cargoes at YICT and weaker intra-Asia and transhipment cargoes at HIT. The service rationalization of various global shipping alliances had a negative impact on transhipment volumes. The outbound cargoes to US and EU, however, showed a positive trend in 2016 and grew at a faster rate in the fourth quarter of 2016.
Although revenue fell by 6%, to HKD 11.91 bln (USD 1.5 bln), net profit was just 2% lower at HKD 1.71 bln compared to HKD 1.74 bln previously.
Given the uncertainty on the policy of the new US administration and continued weak consumer sentiment and high unemployment rate that is expected to hinder the speed of economic recovery in Europe and the pickup of the European trade in 2017, the management of HPH Trust remains cautious on the expected cargo volume for 2017. The terminal operator will continue focusing on better cost control through improvements in productivity and efficiency.
HPH Trust is the first publicly traded container port business trust. Listed on the Singapore Exchange ("SGX"), HPH Trust is affiliated with Hutchison Ports, the global leader in the container port industry by throughput and a subsidiary of CK Hutchison Holdings Limited.
HPH Trust owns interests in world class deep-water container port assets located in two of the world's busiest container port cities by throughput – Kwai Tsing, Hong Kong and Shenzhen, China.