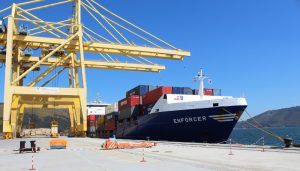 Ferrol Container Terminal, Spain, owned by Yilport Holding, has marked its start of operations by receiving the first vessel call earlier this month, informs Yilport.
The container vessel Enforcer of the British shipping line MacAndrews specializing in Intra-European multimodal logistics (part of CMA CGM) berthed at the terminal to discharge 90 empty containers and to load 20 containers with wood industry products destined to Poland. The handling operation took 3.5 hours. The brand new, state-of-the-art handling equipment installed at the terminal ensured satisfactory speed of operations for both the shipper and the carrier companies.
This trial call marks the beginning of a regular weekly container service from Yilport Ferrol Container Terminal (YFCT) linking Northwest Spain to Scandinavia, UK and Poland.
The port of Ferrol is located on the Atlantic coast in north-western Spain, in the province of A Coruña in Galicia. It handles general cargo, dry and liquid bulk. In the first quarter of 2017 the port handled 3.7 mln tons (+27% y-o-y). About 15 years ago the port initiated an ambitious project – to construct an outer deep-water port (Puerto Exterior) at the reclaimed area with the aim to increase the capacity of Ferrol and attract more cargo by creating a new Atlantic hub for the Iberian Peninsula. The development has been difficult, impeded by constant delays. Thus, according to the port authority's presentation, the new container terminal was due to become operational already in 2014.
In October 2015, Yilport Holding, the port management and logistics subsidiary of Turkish Yildirim Group, acquired Ferrol Container Terminal from the Portuguese port operator Tertir. After the takeover, Yilport Holding invested heavily in handling equipment and infrastructure. So today YFCT, with its 20m draft, is the deepest container terminal in Iberia and can accommodate Ultra Large Container Vessels. It offers a quay wall of total 1450m and an annual capacity up to 1.5 mln TEU on its 29ha of land area. Due to proximity to major deep-sea shipping routes, YFCT offers the best location for container transshipment feeding Spain, Portugal, France, Ireland, and Southern Britain with practically no deviation. The terminal is well connected to the Spanish highway system, granting it the capacity to serve the Iberian hinterland as well as Portugal.
Christian Blauert, Yilport Holding CEO, commented: "We are more than happy to welcome container vessels at Yilport Ferrol. Ferrol Container Terminal with its outer harbor is the right choice for our customers looking for a privileged location. Ferrol offers the deepest container terminal in the Atlantic Coast of Southwest Europe with 20 meters of draft. We know that paradigms in European logistics are changing. Now, Iberian Peninsula provides shippers the chance to reduce costs, congestion and carbon emissions by getting closer to the European market."