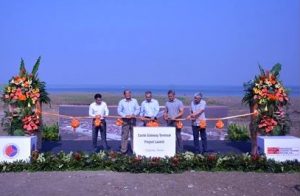 Philippines-based port operator International Container Terminal Services, Inc. (ICTSI), in partnership with the Philippine Department of Transportation have inaugurated the development of the country´s first container Ro-Ro barge terminal in Tanza, in the province of Cavite, reported ICTSI last Friday.
Cavite Gateway Terminal (CGT) will be developed in line with the government's national transport plan aimed at reducing truck traffic and utilizing nautical highways more efficiently for the movement of goods. The CGT will facilitate container shipping between ICTSI's flagship facility Manila International Container Terminal and Cavite.
The province of Cavite is located 21 km south of Manila and is considered to be one of the most industrialized and fastest growing provinces in the Philippines. The 275-hectares Cavite Economic Zone accommodating over 400 actively operating companies is situated here. With a population of 3.6 mln, it is also the most populated province in the country.
The terminal will be constructed on an area of 6 hectares. At Phase 1 it will have an annual capacity of 115,000 TEU. According to ICTSI, this will represent 140,000 fewer truck trips on city roads each year. The cost of Phase 1 is estimated at USD 30 mln and is said to be fully covered by ICTSI. The terminal will be integrated with other major Luzon port facilities for more cost-effective and time-bound access to the Cavite market for both inbound and outbound cargo.
Christian R. Gonzalez, ICTSI Vice President and Head of Asia Pacific and Manila International Container Terminal, said that the terminal is expected to be operational within the first quarter of next year.