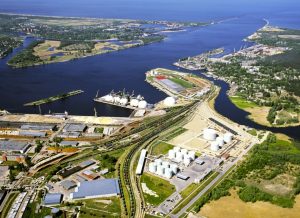 Russia practically stopped transporting goods by railway to Latvian ports, informs Reuters. According to railway statistics, in March 2017 shipments of coal, oil products, metals to the ports of Riga and Ventspils amounted to 1.2 mln tonnes, in April this volume declined to 0,75 mln tonnes, whereas in the first two weeks of May – only 0,046 mln tonnes. These scarce May figures include small volumes of cast iron in Ventspils and oil products in Riga.
The major Latvian terminals handling Russian cargo are located in the ports of Riga and Ventspils, railway cargo from Russia makes up about 15-20% of their throughput.
Edgars Sūna, Marketing Director of Freeport of Riga, confirmed that since mid-April the cargo flow from Russia has dropped by 45-50% from the budget.
According to Reuters' nine different sources in the railway transportation industry, Russia's state railway monopoly, Russian Railways (RZD), refuses to accept most of the operators' bookings to ship cargo to Latvian ports. This trend was noted in April but in May the percentage of declined bookings has rocketed. RZD either do not explains the reasons of rejections, or informs about the summer repair works on rail tracks.
"Now they accept only 10% of all bookings to ship coal and mineral fertilizers," said one of the railway operators.
"It's all very serious and may be for long, they say. No one knows what to do," commented a trader.
However, RZD denies: "Russian Railways has not imposed any restrictions on shipments bound to Latvia. Each case of booking rejection should be considered separately."
Several Reuters' sources suspect that this decision may be linked to Latvia's refusal to participate in the Nord Stream 2 project. The project promoted by Russia's Gazprom involves construction of two new offshore natural gas pipelines from the Ust-Luga port in Russia to Germany and is to be completed by 2019. The total cost of the Nord Stream 2 amounts to EUR 9,9 bln.
Two terminals in the port of Ventspils – Noord Natie Ventspils Terminals and Eurohome Latvija – were offered to take part in the project by providing storage and handling services for pipes delivered from Russia.
In late April, Latvian government decided not to support the project on the grounds of the national security risks. The mayor of Ventspils Aivars Lembergs admitted then that Russia would definitely react to this decision.
Edgars Sūna, however, assumes that Russia could have decided to divert all cargo flows to its own ports and it has just coincided with Latvia's decision on the Nord Stream 2 project.
Indeed, with the end of winter conditions in Russian Arctic ports, Murmansk and Arkhangelsk can be alternatives to Latvian ports, comment traders.