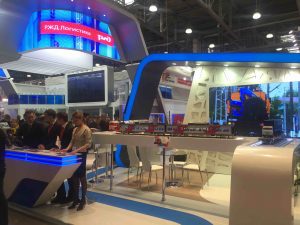 The 22nd International Exhibition "TransRussia" will be held in Moscow, Russia on 18-20 April 2017.
TransRussia is the country's largest exhibition of transport and logistics services and technologies. 13,214 professionals from 74 Russian regions and 51 countries took part in the event in 2016. The list of participants included 335 companies from Russia and 27 countries.
The exhibition covers freight transportation services (by sea, rail, road and air), including express delivery and freight forwarding, cargo handling services in ports and terminals, as well as IT solutions. The port section will be traditionally represented by the largest Russian terminal operators: Global Ports Investments, UCL Holding, NCSP Group, Fesco Transportation Group, Fenix, as well as port authorities and stevedores: Kaliningrad Sea Commercial Port, Klaipeda Stevedoring Company, Riga Commercial Port, Riga Universal Terminal, ports of Hamburg, HaminaKotka, Helsinki, Hanko, Monfalcone and others.
TransRussia hosts an extensive conference programme, with topics covering transportation, warehousing, technology. It also includes training workshops, presentations, round table discussions and press conferences by the exhibitors.  On top of that, the "Open Discussion" interview studio has become the exhibition's tradition. This project allows the industry journalists meet directly the companies' chief executives, government officials and industry experts to ask questions on current trends, problems and development prospects.
The exhibition will take place in Crocus Expo exhibiting centre, Pavilion 1.
All information on the event can be found at its website.