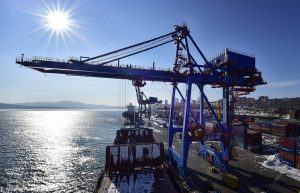 Container throughput of Russian seaports in January-March 2017 has grown 11.8%, up to 1.07 mln TEU, reports TASS news agency quoting the Association of Russian sea commercial ports. Comparing with the same period last year, it may be reminded that the first quarter of 2016 was still tough for Russian ports, as after a dramatic drop by 25.4% in 2015, the throughput continued falling: -5% to 950 th. TEU.
However, this year the market looks much stronger preserving the recovery trends observed at the second half of 2016. Imports, exports and cabotage have demonstrated a double-digit growth.
Import volumes in the first quarter of 2017 increased 12.4%, to 458 810 TEU. It is worth noting that this increase was achieved due to a rise of 14.2% in loaded imports, whereas importing empty boxes decreased by 9.1%.
Export volumes of 456 350 TEU also grew 12.3% as compared to the first quarter of 2016. And here also we mark a growth of 13.6% in loaded exports.
Cabotage increased by 11.1%, to 145 420 TEU. Transit containers slipped 16.2%, to 10 380 TEU.
The growth was observed in all Russian port regions, except for the Arctic facilities, where throughput of 33 080 TEU was 8.4% lower than in Q1 2016.
The Far Eastern ports have demonstrated a tremendous growth of 29.8%, up to 324 190 TEU, finally reversing the two-year downward tendency. In Q1 2016 the ports handled 250 th. TEU, -19.4% to 2015 and closed year 2016 with volumes still down -2.06%.
The Baltic ports, which are Russia's largest in terms of container throughput, handled 531 530 TEU (+5.2%), making up 49.6% of the country's total container volumes, whereas the Far Eastern ports account for 30.3%.
The Black Sea ports handled 181 410 TEU, which is 9.3% more than last year. The Caspian ports also showed a significant growth of 16%, although from a low base (740 TEU).
In 2016, Russian ports handled 3.99 mln TEU, up by 1.4% as compared to 2015: export – 1.64 mln TEU, import – 1.67 mln TEU, cabotage – 0.64 mln TEU, transit – 0.05 mln TEU.