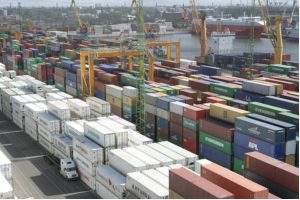 The container throughput of all Russian ports increased by 15.5% in 2017 reaching 4.62 mln TEU, reports TASS news agency quoting the Association of Russian sea commercial ports.
In the last 5 years, the container volumes of Russian ports dropped dramatically from 5.35 mln TEU in 2013 down to 3.94 mln TEU in 2015 due to a massive devaluation of ruble (from 33 RUR to 61 RUR for 1 USD) at the end of 2014 and the economic sanctions, which hit primarily the import shipments of foodstuffs, consumer goods and auto spare parts from the European Union, the United States, Canada and Japan. The year 2016 marked a slight recovery in container volumes: 3.99 mln TEU, +1.3%. And now this trend has strengthened, especially in the second half of 2017.
It is noted that import volumes jumped 16.8% to 1.95 mln TEU, and this happened due to a 19.6% growth in loaded import boxes, with empties decreasing by 24.9%. This is seen as a very positive trend, compared to last year, when a 2.1% rise in imports (1.67 mln TEU) was largely attributed to an increased volume of empty boxes brought in the country to load exported materials.
Export volumes surged by a tremendous 17.5%, up to 1.92 mln TEU, of which loaded exports were up 12.3%. 2017, with its increased imports, also brought back the traditional evacuation of empties after the imported cargo: exporting empty containers increased by 26.7%.
Besides, handling cabotage volumes was also up 6.5% to 0.68 mln TEU. This includes coastal shipments to northern territories in the Russian Far East and the Arctic.
The growth was observed in all the major Russian port regions. Thus, the Baltic ports handled 2.23 mln TEU (+10.6%), which confirmed their status as the largest container region of the country handling 48% of all container traffic of the Russian ports. Of these, St.Petersburg recorded the throughput of 1.9 mln TEU, thus accounting for 41% of all Russian container ports volume.
The Far Eastern ports finally managed to regain their volumes after the collapse of 2015, when their total throughput was down 24.2%. In 2017, they handled 1.48 mln TEU, up 23.9% from 1.19 mln TEU in 2016, with Vladivostok being the largest container facility of the region: 0.84 mln TEU, or 18.2% of all Russian container ports traffic.
The Black Sea ports handled 0.75 mln TEU, which is 19.7% more than in 2016. Here the third largest Russian container port is located – Novorossiysk: 0.74 mln TEU.
The Arctic facilities reduced their container volumes to 0.15 mln TEU (-1.6%) and the Caspian ports handled just 2,370 TEU, which was 1.9% less than in 2016.
Container volumes of all Russian ports
| mln. TEU | 2013 | 2014 | 2015 | 2016 | 2017 |
| --- | --- | --- | --- | --- | --- |
| Throughput | 5.35 | 5.28 | 3.94 | 3.99 | 4.62 |
| Change y-o-y | +5% | -1.3% | -25.4% | +1.3% | +15.5% |