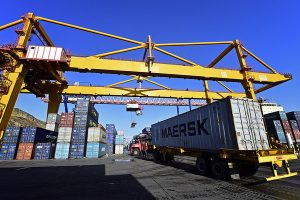 Russian container ports have achieved a 12% growth in January-April 2017 as compared to the same period of 2016, by handling 1.44 mln TEU, informs Maritime News of Russia quoting the Association of Russian sea ports. Import volumes continue the upward trend of the first quarter: up 14.4% to 620.3 th. TEU, with full import boxes still growing by 17.9% (in Q1 2017 their growth was registered at 14.2%) and empty imports even more decreasing: -24.7% (in Q1 2017 the drop was 9.1%).
Exports have also increased: 608.37 th. TEU, +10.7%, with full export boxes up 10% (380.4 th. TEU) and evacuation of empty boxes also up 11.8% (227.9 th. TEU).
Local cabotage volumes were 200.64 th. TEU (+11.3%) and transit dropped by 13.1%, 14.29 th. TEU.
The handling of full reefer containers reached 154.78 th. TEU, of which most part was imports (127 th. TEU), with exports (11.46 th. TEU) and cabotage (16.29 th. TEU) making up the rest.
The growth was observed in all Russian port regions, except for the Arctic facilities, where throughput of 47.8 th. TEU was 0.8% lower than in January-April of 2016. However, with the start of a new navigation season, the volume decline of these ports has slowed down (in Q1 2017 the decrease was 8.4%).
The Far Eastern ports have increased their throughput by 25.5% to 425.01 th. TEU, although the growth rate is now a little less than in the first three months, when it reached a tremendous 29.8%.
The Baltic ports, on the contrary, keep regaining their volumes by further growing 7.2%, up to 718.99 th. TEU. The Black Sea ports handled 250.97 th. TEU (+8.9%) and the Caspian ports – 0.84 th. TEU (+12.4%).
According to the 4 months' statistics, the Baltic ports make up 49.8% of total Russian container volumes, whereas the Far Eastern ports account for 29.4%.