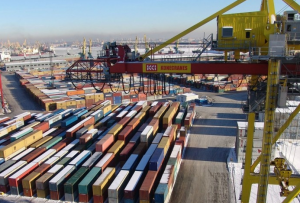 The total throughput of Russian ports in 2016 reached 721.9 mln tons, which is 6.7% higher than in 2015, announced the Association of Russian sea ports.
The ports handled 386.1 mln tons of liquid cargos (+5.9% to 2015), mostly crude oil (228 mln tons, +12.8%) and 335.8 mln tons of dry cargos (+7.5%). The major part of dry cargoes constitute coal (136.3 mln tons, +10.5%), containers (42.7 mln tons, +6.5%) and grain (35.5 mln tons, +3.3%).
Exports account for 79% of all throughput of the ports of Russia, 567.3 mln tons (+5.3% to 2015). Imports, making up just 4% of the handled volumes, dropped by 5% in 2016 to 31.7 mln tons. The rest of the throughput is transit (51 mln tons, +5.8%) and local cabotage (71.9 mln tons, +27.4%).
For statistics purposes, Russian ports are divided geographically by basins, the biggest being the Azov-Black Sea basin, with the total throughput of 244 mln tons (+4.8%), mostly due to shipping liquid cargo and grain. Here the Russian biggest port in terms of volumes is located, Novorossiysk (131.4 mln tons, +3.4 %).
The second largest basin is the Baltic one: 236.6 mln tons, +2.5%, again largely due to liquid cargo (146.9 mln tons, +2.7%) handled at the ports of Ust-Luga (total volume 93.4 mln tons, +6.2%) and Primorsk (64.4 mln tons, +8.1%). But also Russian most advanced container terminals are located here, in the port of Saint Petersburg, which throughput however dropped in 2016 by 5.6%, to 48.6 mln tons.
Third largest basin is the Far Eastern basin: 185.5 mln tons, +8.3% handling mostly coal and other dry cargos (111 mln tons, +13%). The major coal facility here is Vostochny port, whose throughput increased by 5.2% to 68.5%.
The remaining Arctic and Kaspiy basins are much smaller. In 2016 the Arctic ports handled 49.7 mln tons, +40.6%, primarily due to a 1.5 times growth of Murmansk (33.4 mln tons). The ports of Kaspiy region, on the contrary, decreased by 9.6% (6.1 mln tons), because of the drop in handling liquid cargos at Makhachkala.