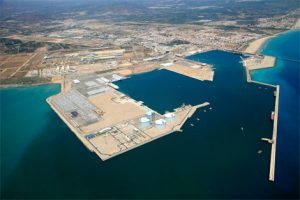 Spanish major terminal operator Noatum and Algeposa Group, one of Spain's leading logistic operators, agreed to integrate the assets and teams of their companies functioning in the port of Sagunto, 25 km north of Valencia, announced yesterday's press release of Noatum.
The alliance of Logística Portuaria de Sagunto, S.A. and Noatum Terminal Polivalente Sagunto will result in operative improvements in cargo handling and storage services, which will be provided to the customers in an optimized and more efficient way under one multi-purpose terminal. This is part of a strategy designed by Noatum and Algeposa in relation to their commitment to the port of Sagunto aimed at attracting new traffic of general cargo, steel products, containers and bulk cargo. The integration will become effective during the first quarter of 2017.
The port of Sagunto, being part of the Port Authority of Valencia, traditionally has specialised in handling products of steelmaking and metallurgical industry. Today it is expanding and developing into a multi-purpose facility, opening up to new traffic such as natural gas, containers, solid bulk and vehicles. It has around 50ha of space dedicated to automobile logistics.
Currently, the facilities of Noatum Terminal Polivalente Sagunto are being refurbished with an estimated investment of EUR 1 mln to adjust port operations to this new reality under one single multi-purpose terminal.
Douglas Schultz, CEO of Noatum Ports and Maritime stated: "The successful conclusion of this strategy will allow Noatum to increase the handling and storage capacity of the terminal and offer potential customers a complete service portfolio that will result in higher added value both for the company's shareholders and for the Sagunto port community".
Noatum is the leading maritime terminals operator in Spain, with interests in Bilbao, Valencia, Malaga and Las Palmas, as well as in the largest vehicle terminal in the Mediterranean, located in Barcelona. It also operates two railway terminals: the intermodal terminal at Puerto Seco de Coslada, Madrid and Noatum Rail Terminal Zaragoza.
Algeposa Grupo provides logistics services, mainly in the fields of maritime and railway transport. The company specializes in the handling, management, storage and transport of steel products, bulk cargo, agri-food products, minerals, forestry products, project-related cargo and consumer goods.