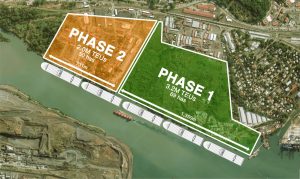 The tender for a container terminal at Corozal to serve the Panama Canal has expired because no bids were received by the Panama Canal Authority (ACP), wrote yesterday Splash 24/7.
As we informed last year, four global port operators, including APM Terminals, Terminal Link, PSA International and Terminal Investment Ltd., were selected to compete for the rights to the proposed terminal on the Pacific entrance of the Panama Canal, including a 20-year concession. Until February 3, 2017 they were expected to submit their specifications and economic proposals.
A bid winner would have earned the right to design, develop, build, operate and maintain the terminal.
The concession would include the construction of a 2,081-linear-metre dock, a warehouse, a container yard and offices within a 120-hectare area. The terminal's projected capacity is 5.3 mln TEU.
But none of the operators pre-qualified to bid came forward, despite two deadline extensions for bids.