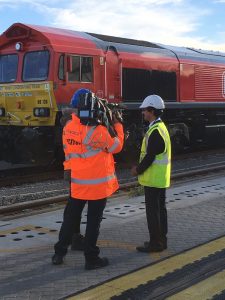 The first ever UK-China container train departs today from DP World London Gateway for the city of Yiwu in Zhejiang province, eastern China, reports BBC. The unique rail freight service will pass through the Channel Tunnel and thereafter cross 7 countries – France, Belgium, Germany, Poland, Belarus, Russia and Kazakhstan – making 12,000 km in 17 days. The export train operated by InterRail and carrying 32 containers with British goods including whisky, soft drinks, vitamins and pharmaceuticals is due to arrive at destination on 27 April.
DP World Group Chairman and CEO, Sultan Ahmed Bin Sulayem, who was talking live this morning on BBC Breakfast, called this a "significant trade occasion", adding: "DP World London Gateway, one of the UK's largest logistics hubs, is designed and developed to ensure products can be both imported and exported from the UK via ship or train in a faster, safer and more reliable way than ever before."
The service is part of China's One Belt, One Road initiative. Rail freight services from China are regular for certain destinations in continental Europe since 2011, but only started to cross the Channel this year. The first freight train from China to the UK arrived three months ago, on 18 January.
DB Cargo, whose locomotive will handle traction from London Gateway rail terminal, says that 40,000 containers were transported between Europe and China by train in 2016, and by 2020 this volume is expected to rise to 100,000. The rail service is twice faster than a deep-sea route and much cheaper and also greener than air freight.