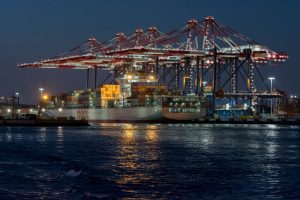 Last week the Board of Harbor Commissioners that sets policy for the Port of Long Beach interviewed seven finalists for the post of the US second-busiest container port's CEO. The new leader is expected to be announced by summer, although no candidates have been named so far, writes Long Beach Press Telegram.
The port has been struggling to find a good fit. Since 2011, the port has had two CEOs and two interim executives.
Duane L. Kenagy was appointed Interim Chief Executive in September 2016, when Jon Slangerup, who had been heading the Port of Long Beach since 2014, abruptly resigned to take a position as Chairman and CEO of an aeronautic software company. Slangerup, a former FedEx Canada executive, led the port through the 2014 and 2015 West Coast labour dispute and helped oversee the port's 10-year capital improvement plan, including the replacement of the Gerald Desmond Bridge and the development of the innovative Middle Harbour terminal. Nevertheless, Press Telegram notes that as he had never worked in the public sector before, he "felt constrained" at his post.
"Running a public sector port in the United States today is a very difficult job," said Tim McNamara, managing partner of Boyden, an executive search firm that Long Beach used to find its last CEO. "You are dealing with so many voices and so many constituents."
The job requires not just a world-class manager who can help the port maintain market share, but one who can navigate a web of interests, from union bosses fighting against automation to politicians pushing for greener ports to retailers demanding faster, more efficient service.
According to the sources, the port offers a salary of around USD 350,000 a year, which is considered modest for a public CEO reporting to the five-member Harbor Commission appointed by the City of Long Beach.
Yet, there are about 100 applicants for the job.
On the suitable candidates, the market experts ponder that someone like Gene Seroka, Head of the Port of Los Angeles and former APL executive, might be the right choice. "The port would do well to find someone in the same cloth of Gene Seroka," says Mark Hirzel, a Los Angeles district manager at Deringer, a Vermont-based customs broker. "He brings a lot of industry credibility to the table, and is super intelligent on how the business works and what it takes to attract business."
Whoever is chosen will not only have to manage 500 employees and USD 4.5 bln in infrastructure projects, but must also deal with an uncertain industry. In 2016, the throughput of Long Beach declined nearly 6%, whereas Los Angeles saw an 8.3% jump in volumes after one of Long Beach's biggest tenants, Hanjin Shipping, went bankrupt. Since then, Hanjin's stake of 54% in Total Terminals International LLC (TTI), an operator of Long Beach Terminal, was purchased by MSC.
However, as we wrote earlier, an "unusually high" increase of 12.5% in import volumes of US major container ports in January 2017 speaks of the nation's growing economy and allows to predict further containerized import growth, from which the port of Long Beach handling most Asian imports could benefit greatly.
But apart from ups and downs in container shipping, the new CEO will have to cope with tough environmental regulations. The ports of Los Angeles and Long Beach are in the process of updating their decade-old clean air plan, which in turn worries truckers concerned that it could drive up costs and hurt their industry.
On top of that, the International Longshore and Warehouse Union representing dockworkers is looking for the next port leader to keep an open dialogue to extend its current contract.