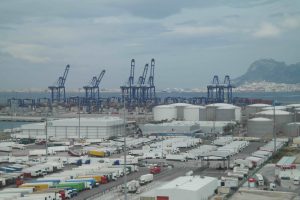 Today we continue our discussion with Mr. J. Javier López, Head of Commercial Division of the Port Authority of the Algeciras Bay (APBA), started in the previous publication.
The name of Algeciras comes from Arabic and means "the green island", or Isla Verde in Spanish, referring to the small island that lies in the bay, around which the grand port has been developed. This toponym also gave name to the area dedicated to container terminals: TTI Algeciras and an adjoining reclaimed plot of 35 hectares – Phase B of Isla Verde Exterior – where the port aims to construct the third container facility. It can be a public or a dedicated facility, with a railway access, the draft of 18.5m and the quay of 680m long, with a possibility of additional 130m in order to reach a total quay line of 810m. The concession term can be as long as 50 years, according to the new Spanish law. The international public tender to construct and operate the terminal was launched by APBA last August and recently has been extended for one more month, until 30 June.
Javier López confirms an obvious interest on the part of large shipping lines in the possibility to set up their facilities in the Gibraltar Strait: "This brings us again to the question of gigantism and to the strategy of the shipping Alliances to re-distribute their capacity among the largest ports, which are able to accommodate their growing vessels. Earlier, 7-8 years ago, the only shipping line with the largest vessels was Maersk Line, followed by CMA CGM and MSC. Nowadays, within TOP 10 lines all will have vessels of over 10,000 TEU capacity. Therefore, if they want to reduce their port calls on the Far East – North Europe route, they need to select very carefully what facilities they will call. And in the Mediterranean, there are not many ports suitable by their operation capacity, because it is all associated with huge investments: investments in infrastructure, in teams, in order to serve ships of 400m long and 62m wide or of 24 rows of containers. That is why today in the Mediterranean region only Algeciras can accommodate such vessels. I mean not only in terms of berthing but also the technical equipment available at the terminal to handle the vessel at full. But nowadays, it is complicated to develop a container terminal, if there's no backing of a large shipping group. We hope that one of them ultimately will be selected to make this important investment."
The port of Algeciras is growing, it proves to be very sustainable, not only in container sector, in other cargoes as well. This is confirmed by the new projects under development in the port.
"We have secured an interest of Vopak, a global leading company in liquid bulk storage and distribution. They are now operating here a terminal of 403,000 cubic meters storage capacity with 22 tanks on the area of 4 ha at Isla Verde Exterior. This has led to an increase of bunkering, another service provided by the port," says Javier López. Vopak's new expansion project is set to increase their storage capacity by an extra 880,803 cubic meters with 36 more tanks to be built.
"Another service, which we are developing now, has grown from the regular connections with South America and the West coast of Africa, and that is containerized perishable goods," continues Mr. Lopéz. "Nowadays, the port is becoming a logistic platform for such products. A good example of this new growing traffic is AGRO Merchants Group, which has recently invested EUR 15 mln in construction of a new refrigerated warehouse in the port. This is a very positive development, as it expands the range of opportunities that cargo owners can obtain in the port. Last year (2016) we closed with 46,300 TEU of full reefers, both import and export, up 28% as compared to 2015. And for us these cargo flows are very important, as the goods are of higher value. We are very much interested in developing more services for this type of cargo, so that carriers consider Algeciras not only as a transshipment hub, but as a port, which also offers value added services." This cargo flow includes imported fruits to Spain, as well as containerized export volumes of oranges destined to China.
To emphasize the significance of reefer volumes for the port, on 25-27 September 2017 Algeciras for the first time will host Cool Logistics Global, the annual conference on shipping, logistics and trading of perishables. The Port of Algeciras as well as AGRO Merchants Group are the key sponsors of the event.
The port is also actively implementing new technologies in its operations. Javier López told us about the programme initiated by APBA and aimed at actualization of all aspects within the telecommunication domain. It encompasses 15-20 ongoing projects. Probably, the largest and most important of them is the development of a new technological platform – Teleport – that would integrate the information flow between different public and private participants of cargo handling process: the Port Authority, customs office, Harbour Master. "It will provide a user – a cargo owner – with continuous visibility of the declared cargo/container. With this, we want to optimize the transit time and simplify the document handling process," says Mr. Loréz.
Port safety is the prime focus for Algeciras. The port constantly improves it, applying new available technologies, such as, for example, cameras covering the whole area including the gate, with the face recognition option, in order to see who is entering or exiting the port. "In 2016, we completed the project, so now we have over 500 HD cameras all over the port and we say that we do not have shade in the port, not a single corner which is not under control. In the Port Police, we have a huge video wall and 3 agents controlling the whole port, in constant communication with national police, so the co-ordination is very good," comments Mr. Lopéz.
Another important project of APBA is aimed at port call optimization. In order to plan a voyage of a vessel as effectively as possible, shipping companies need detailed information on depths, admission policies, arrival and departure times. But different ports communicate this information in different ways, which results in reduced inefficiency. That is why the major ports, such as Algeciras and the Port of Rotterdam, teamed up with large shipping lines, like Maersk Line, in a joint project called Pit Stop, with the ultimate aim to work out a new, internationally accepted standard for information exchange on nautical information and planning.
"It's a very challenging project," says Javier Lopéz. "It involves many parties: pilot, barge, mooring – all will be notified of the vessel call in advance in order to prepare and co-ordinate all the marine services prior to its arrival. It will also provide a full visibility of the vessel handling, so that if anything goes wrong, we will have a possibility of post-evaluation to see who was at fault. This is a very successful and important project, and it's advancing quite well."
Finalizing our conversation, Mr. Lopéz highlighted the significant role of the Port of Algeciras in the local economy: "Today the port represents 8% of GDP of Andalusia, according to the study of the leading consultants. The impact of the port extends beyond the region of the Gibraltar Strait, as Algeciras not only provides port activity but also supports major industries around it."