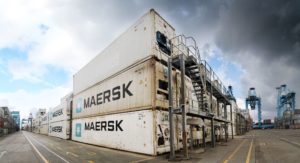 Next week, on 25-27 September 2017 the 9th Cool Logistics Global Conference and Exhibition dedicated to the transportation of refrigerated cargoes by sea, land and air will take place for the first time in the south of Spain. The port of Algeciras will host the event this year.
As we wrote earlier, Algeciras has been recently developing into a logistic platform for perishable products. Today the port offers a wide range of facilities to the global cold chain, including temperature controlled storage capacities for 18,000 pallets, 5,000 reefer plugs at the container terminals, sustainable maritime connections with main origins of chilled and frozen cargoes and border inspection point authorized by the European Union to check all types of cargo and live animals.
Cool Logistics Global will gather over 150 delegates from the leading companies in the sector all over the world to discuss key market trends, logistics best practices, new technologies and digitalization. Along with the extensive conference programme which will take place at the Guadacorte Park Hotel, Cool Logistics includes an exhibition where such world-famous companies as Maersk Line, Hamburg Sud, Kuehne+Nagel, Hapag-Lloyd, Daikin and others will be showcasing their novelties.
The three-day programme includes 1 day technical workshop on 25 September before the actual conference starts, with the tour around the Port of Algeciras, and 2 days of conference sessions with focused discussions and expert speakers, including Stijn Rubens from Drewry, Barbara Buczek of Port of Dover, José Luis Hormaechea Escós of Port of Algeciras, Carlos Rodriguez, CEO at Agro Merchants Group, Anne-Sophie Zerlang Karlsen of Maersk Line, to name just a few. The conference also presents ample networking opportunities including two receptions and sponsored coffee breaks.
The event will be opened on Tuesday, 26 September, by José Llorca, President of Spain's Ports Authority (Puertos del Estado) and Manuel Morón, President of the Port Authority of the Algeciras Bay (Autoridad Portuaria de la Bahía de Algeciras, APBA).
For more information and registration please visit the organizers' website.