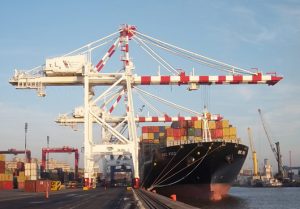 DP World has officially requested permission to renew the terminal concessions to operate in the Port of Buenos Aires, Port Strategy writes today. The request was made by Dubai's Economy Minister Sultan Bin Saeed Almansoori to the Argentinian vice president Gabriela Michetti.
The concessions are due to expire in 2019. Nevertheless, Argentina's president, Mauricio Macri, was to bring the renewal date forward to 2017 as a means of driving investment. According to Gabriela Michetti, the concession renewal will be made by open tender, with no preferences. She added that a possible option would be to allow DP World to continue with the investment and, at worse, leave it as a sub-contractor for the future concessionaire.
Buenos Aires is the only port in Argentina where DP World has its presence. Through a joint-venture, where DP World owns 55.62%, it operates Terminales Rio de la Plata (TRP) acquired from P&O Ports in 2006. TRP, located in the heart of Buenos Aires, is the largest container terminal in Argentina, with annual throughput of 600,000 TEU. The facility comprises three terminals on 43.5 hectares, providing up to five berths for vessel operations with depth alongside of 9.8m. TRP has significant reefer capacity (1,650 plugs) to accommodate the large volume of reefer exports from Argentina. It also handles general cargo and cruise vessels.
DP World has invested USD 250 mln in the facility and now plans to invest USD 200 mln more.