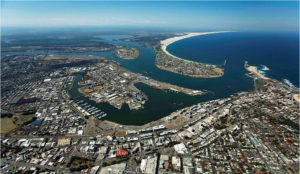 China Merchants Port Holdings Company Ltd (CMPort) completed the transaction to acquire the Port of Newcastle, the largest port on the east coast of Australia and the world's leading coal export facility. Forming the company's first investment in the Oceania region, it signifies that CMPort has achieved a full coverage of the six continents. Following the purchase of Brasil's second largest container facility Paranagua Container Terminal (TCP) in February 2018, CMPort's overseas portfolio has now expanded from Asia, Africa, Europe, North and South America to Oceania.
The deal is in fact a transfer of shares within China Merchants Group. In 2014, the Port of Newcastle was privatized by a 50/50 joint venture between Chinese and Australian interests. Now CMPort has acquired a 50% stake (including shareholders' loan of AUD 162.5 mln) from the Chinese partners: China Merchants Union Ltd, a substantial shareholder of CMPort, and Gold Newcastle Property Holding Pty Ltd, a wholly-owned subsidiary of China Merchants Union. The deal is valued at AUD 607.5 mln (about USD 450 mln). The remaining 50% interest in the port is held by TIF Investment Trust, an independent third party.
CMPort intends to implement in Newcastle its "Port-Park-City" development model, which aims to operate its core port business and develop parks and ancillary infrastructure, thereby building a port-centered ecosystem. This strategy was realized in many purpose-built Chinese cities, for instance in Shekou and Shenzhen.
The Port of Newcastle is a landlord port with 98 years of management right and land lease right since 2014. It has 4 ports precincts with 21 berths, among which 9 berths are dedicated for coal. Its total design capacity is 211 mln tonnes. In 2017, the port handled 167 mln tonnes of bulk cargo, of which 159 mln tonnes were generated from coal. The Port of Newcastle is the only gateway port for Hunter Valley coalfields which produce high-quality thermal coal and handle approximately 40% of Australia's coal exports.
As we wrote earlier, Newcastle is currently promoting its idea to construct a new container terminal, as an alternative to those already operating in Port Botany and Port Kembla in the same state of New South Wales. However, its privatization terms prevent it from building a container terminal to compete with these. Last December, the newly appointed port's Chairman Roy Green highlighted "an urgent need to diversify the Hunter economy and the port's business".
"Among our challenges will be ensuring a level playing field for the development of a viable and competitive container terminal," he said.
The Port of Newcastle has a total area of 792 hectares, including about 200 hectares of vacant land for further development. Whether CMPort is coming to Newcastle to build a container terminal or a logistics park on that plot remains to be seen.