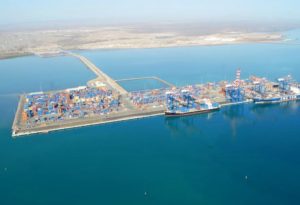 DP World continues to protect its rights in the dispute with the Djibouti government over the Doraleh Container Terminal (DCT), which was illegally seized by the government in February 2018. Now DP World has taken legal action against China Merchants Port Holdings Co. Ltd (CM Port) for building an international free zone on the DCT area.
According to The Financial Gazette, the global port operator from the United Arab Emirates filed the lawsuit against CM Port in the High Court of Hong Kong for unlawfully procuring land and inducing the Republic of Djibouti to breach various agreements between this African country and DP World. Now in its lawsuit, DP World seeks damages, interest and a declaration of this unlawful act on the part of CM Port.
Under the agreement between DP World and the Republic of Djibouti, DP World was granted exclusive rights over the port and free zone facilities in Djibouti, including container handling facilities. DP World constructed, developed and managed a state-of-the-art container terminal at Doraleh (DCT), which was jointly owned by DP World (33,34%) and a Djibouti state-owned Port of Djibouti S.A. (PDSA)(66,66%).
In 2013, China Merchants bought 23,5% of PDSA from Djibouti.
However, these exclusive rights were violated, when Djibouti International Free Trade Zone was launched in July 2018, an ambitious project backed by China Merchants, Dalian Port Authority and the investment company IZP Technologies. Following the official opening, DP World called it in a statement "another clear example by the Djiboutian Government of violating its contractual obligations and the rights of foreign investors," and threatened to take legal action, including claims for damages against third-party operators.
So now the port operator has carried out its threat.
Apparently, the conflict was escalated, after the London Court of International Arbitration held in August that Djibouti did not have sovereignty over a contract governed by English law. The Court established that, in the absence of an express term to that effect, an English law contract cannot be unilaterally terminated, so the concession contract awarded to DP World by the Djibouti government in 2006 remains in full force and effect.
Later, on 31 August, the High Court of England and Wales issued an injunction against the Port of Djibouti ordering it not to wrest control of the terminal from DP World, nor act as if the joint venture agreement with the port operator had been terminated.
As the next step, the president of Djibouti enacted a decree on 9 September purporting to transfer the private entity Port of Djibouti's shareholding in DCT to the state government.
DP World said this transfer of ownership appeared to have been made in an attempt to "flout" the injunction.
"Investors across the world must think twice about investing in Djibouti and reassess any agreements they may have with a government that has no respect for legal agreements and changes them at will without agreement or consent." said DP World.