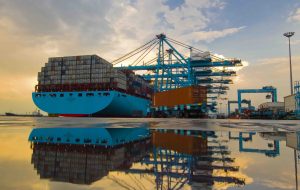 Maersk Line has estimated that 10 weeks of dockworkers conflict in Spanish ports in February-March 2017 resulted in EUR 12 mln of direct operating costs for the company, not including the loss of customers caused by the crisis, informs Spain's El País quoting the company's official statement submitted to the country's government.
Once Spanish stevedores revealed their plans to protest against government reforms aimed at allowing ports to hire non-union labour and thus bringing the country's dock labour system in line with the European Union regulations, Maersk announced a contingency plan, which implied a diversion of vessels from the affected Spanish ports to other Mediterranean facilities. In order to minimize the disruption and ensure the smooth delivery of customers' cargo, from the port of Algeciras alone Maersk Line has diverted 73 vessels. These were re-routed to Tanger Med (Morocco), Sines (Portugal) or Port Said (Egypt). Although the strike action was partly called off later on, this measure has led to a 21% decrease in scheduled vessel calls planned for the year and to a loss of minimum 75,000 moves at the company's facilities, states Maersk, which handles about a third of all maritime cargo in the country's ports.
"The economic impact of these figures – for companies as well as for workers – is already an irrevocable fact and means the loss of one year's organic growth and a slowdown in generation of employment", highlights Maersk in its letter.
The company also warns of an indirect damage caused by the conflict and that is the loss of confidence in reliability of international transhipment at the Port of Algeciras, which in turn may lead to the port's losing its leadership position and competitiveness.
Maersk reminds that the lost traffic is very hard to regain in a short term. It quotes an example of what happened in Egypt's Port Said during the Arab Spring of 2011: "The port was significantly affected by the reconfiguration of shipping network, and today 6 years later, the port still has not recovered 50% of its past volumes".
In its statement, Maersk Line asks Spain's government and dockworkers unions not to repeat old mistakes and consent to a reform that would meet the ruling of the Court of Justice of the EU. The shipping line also calls Spanish Ministry of Public Works and Transport to dispatch as soon as possible the legal text based on the social treaty which had been agreed by the parties. "A simple announcement of a new strike action in the ports can have fatal consequences in a short or a medium term", explains the operator.
Currently the negotiations between the government and the unions came to a standstill. The unions and stevedoring companies are waiting for the government to provide them for examination and approval a draft of a new law on dock labour reform that would contain the suggestions worked out during the negotiations in early April.