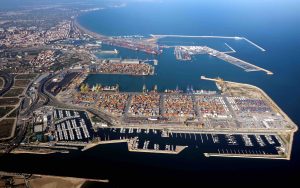 Spanish ports face severe disruptions during March, as dockworkers plan to protest government reforms to allow ports to hire non-unionised labour.
The Spanish government has been under pressure since December 2014, when the Court of Justice of the EU ruled that the country's current dock labour system breaches the EU legislation on the freedom of establishment. The Spanish legislation obliges undertakings of other Member States wishing to exercise the cargo handling activity in Spanish ports to register with the Dockers' Management Public Limited Liability Company ("Sociedad Anónima de Gestion de Estibadores Portuarios", SAGEP) and to hold shares in this company. Moreover, cargo handling companies are obliged to employ as a priority workers provided by this company.
Spain's Minister of Public Works and Transport Iñigo de la Serna confirmed: "This is the only economic sector where there isn't free hiring in our country."
As no measures complying with the Court's judgement have been taken by the Spanish government, in July, 2016 the country was fined EUR 15.6 mln. On top of that, a daily fine of EUR 134,000 was imposed, until the country brings its port labour system in line with the European Union regulations.
Last Friday, the government unveiled a new law, whereby ports, terminal operators and stevedoring companies would be able to hire non-union workers. The law also removes the obligation on them to be members of SAGEPs. The proposed law is to be approved by the Parliament within a month, but has already caused immense dissatisfaction of the unions who called it "harmful to the Spanish port industry and extremely damaging to the legitimate rights of workers". They claim the reforms will result in the loss of nearly 7,000 jobs across the Spanish ports.
As a result, the dockworkers have called a strike action of nine days in total starting March, 6. The strikes will take place every other hour starting at 8 am local time and are scheduled for March 6, 8, 10, 13, 15, 17, 20, 22, and 24. The Bilbao dockers will stage 24-hour strikes on the same days.
However, in some ports there have already started covert strikes through reduced efficiency works. The affected ports include Valencia, Alicante, Cádiz.
Negotiations between the unions and the government are to resume this week.
Read further news in our latest review.