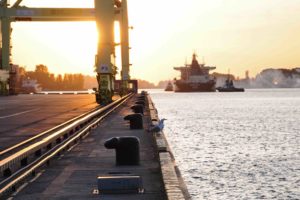 The question of stevedoring rates in the Russian ports is again on the federal agenda. In mid-August, Russian President Vladimir Putin ordered to convert the port handling charges of Russian stevedoring companies into rubles as from 1 January 2018, but, as it often happens in Russian practice, "with certain provisos for particular situations and particular projects". In his direct manner, he commented: "It is necessary to switch on brains and see that no one incurs any losses".
Now the Federal Anti-Monopoly Service of Russia (FAS), who was the initiator of this change, admits that a number of Russia's stevedoring companies may get a postponement of 1.5-2 years, informs TASS news agency. According to Igor Artemiev, Head of FAS, the postponement may be granted to the ports with credits in foreign currency used for their development. However, within two years all ports must change their handling rates into rubles. "I think, in 1.5-2 years we will finish this story for all ports," he said.
The story began in 2015, when Vladimir Putin ordered to investigate the question of port charges with the aim of converting them in the national currency. Traditionally, the stevedoring tariffs of most of Russian ports, especially those handling containers, are set up in US dollars, which was established by the orders of the Russian Federal Service of Tariffs back in 1998. However, due to sharp ruble devaluation at the end of 2014 their ruble equivalent grew up 2.5 times. This obviously caused complaints from some large cargo owners, like Rosneft, Russia's leading oil extraction and refinement government-owned company. And in June 2016, FAS initiated legal actions against nine largest stevedoring companies accusing them of abusing their monopoly power and charging them billions of fines. Thus, for instance, Novorossiysk Commercial Sea Port, the largest Russian port by throughput due to handling large volumes of oil, was fined RUR 9.74 bln (USD 162.2 mln). Another terminal operator – Primorsk Commercial Port – was ordered by FAS to convert its rates into rubles and return them to the level of year 2014, i.e. twice lower than in 2016.
As we wrote earlier, some ports, like both Primorsk and Novorossiysk, have managed to appeal the FAS decisions in June-July 2017 and cleared themselves of the competition charges.
However, later, at the meeting with the President in August, Head of FAS Igor Artemiev again brought up the question and directly asked Mr. Putin to order the state-controlled Novorossiysk Commercial Sea Port convert its handling charges from US dollars into rubles and supported his request with an intricate motive: "It is needed for the development of our financial system. Our Central Bank speaks for it." What he meant by this is that foreign companies will have to buy rubles to pay the invoices, which favours the Russian Central Bank's strategy.
Victor Olerskiy, deputy Minister of Transport, declared that converting stevedoring rates into rubles would not cause any risks for the business, it only should be done gradually, without hindering the companies' business plans.
But many experts within Russia's port industry believe this measure may severely hit the sector, especially container and oil terminals, which traditionally charge their customers in US dollars. Converting their rates may result not only in getting less for their services, but also in time-consuming approvals by FAS in case of ruble fluctuations. Besides, it will undermine many investment programs, which imply import equipment and heavy loans in foreign currency. The operators' profits will decrease, but their loans are still to be paid out. Thus, net debt of Novorossiysk Commercial Sea Port at the end of 2016 was USD 1.04 bln, of Global Ports – USD 947 mln.
In the meantime, the throughput of Russian sea ports in January-August 2017 has grown by 10.4% y-o-y, up to 517.25 mln tons. The container volumes during this period was 3.04 mln TEU, up 16.4%.