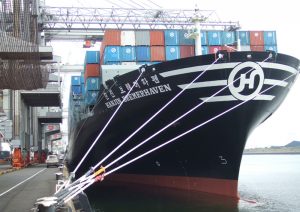 Hyundai Merchant Marine (HMM) and Korea Line, owned by SM Group, have submitted final bids for the Asia-US assets of bankrupt Hanjin Shipping, writes Lloyd's Loading List.
Seoul Central District Court, which oversees Hanjin's bankruptcy procedure, is expected to announce the preferred bidder this week. The sale is to be concluded by November 21.
Hanjin's transpacific operations comprise staff (around 500 employees), 5 containerships and 7 overseas units and cargo distribution system. Both bidders are also interested in Total Terminal International, which owns Hanjin's 54% stake in Long Beach Terminal, California.
The HMM official said the shipping line was also considers Hanjin's terminal in Algeciras, Spain.
In total, five companies submitted initial bids for Hanjin's Asia – US business.
According to Hanjin's data, its share in Asia-US container shipping in H1 2016 was 7%, the transported volume in 2015 on this route was 1.85 mln TEU, which made up for 40% of the line's total traffic 4.62 mln TEU.